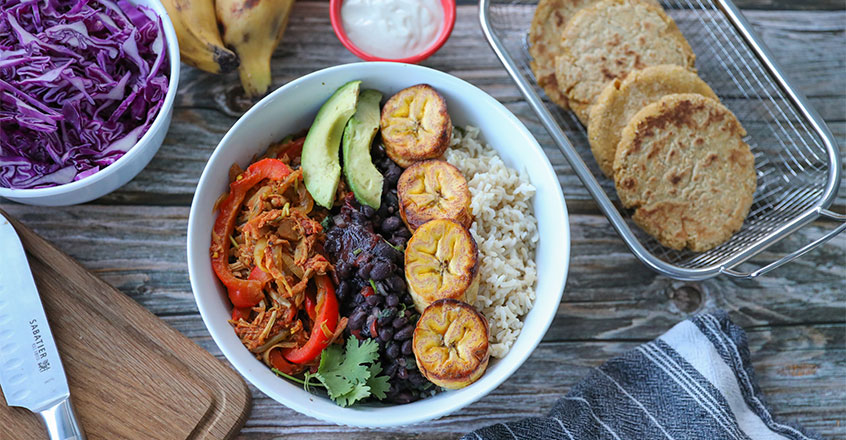 What You'll Need
---
BLACK BEANS
3 sweet peppers (aji dulce) (optional)
2 cloves of garlic, minced
1 bunch of cilantro, chopped
MADUROS (RIPE PLANTAINS)
3 yellow ripe plantains (not black)
JACKFRUIT SHREDDED "MEAT"
1 14-ounce can of green jackfruit, drained
1 tsp of ground annatto or turmeric
2 Tbsp plant-based Worcestershire sauce
½ onion, sliced in half moons
½ red bell pepper, sliced
¼ cup fire roasted chopped tomatoes
3 small sweet peppers (aji dulce), minced (optional)
COLESLAW
½ cup green cabbage, shredded
½ cup purple cabbage, shredded
2 Tbsp apple cider vinegar
GARLIC SAUCE
1 12.3 oz package silken tofu
How to Make It
---
BLACK BEANS
1 Soak the beans for at least one hour, preferably overnight. Drain and rinse.
2 In a medium saucepan, boil water and add the beans.
3 Cook for an hour or until the beans are tender.
4 Add minced garlic, onion, bell pepper, sweet peppers, cumin, onion powder, salt, and pepper and cook for 10 minutes.
5 Add fresh cilantro and set aside.
PLANTAINS
1 Preheat oven to 400 degrees F.
2 Cut off the ends of the plantains, then slit lengthwise and remove peel.
3 Cut plantains into 1½-inch slices.
4 Place on a baking sheet lined with parchment paper and bake for 20 minutes or until cooked and slightly golden.
JACKFRUIT SHREDDED "MEAT"
1 In a medium saucepan, add the jackfruit and cover with water. Bring to a boil and cook for 15 minutes. Drain.
2 Shred the jackfruit with your hands, removing any seeds.
3 Place the shredded jackfruit in a bowl with the garlic powder, annatto or turmeric, salt, pepper, cumin, and Worcestershire sauce, and stir well. Allow to marinate for a few minutes.
4 In a skillet over medium heat, add the chopped vegetables along with a few tablespoons of vegetable broth and cook until vegetables are softened. Then, add the marinated jackfruit.
5 Sauté for about 5 minutes over medium heat, then add the remaining vegetable broth, along with the bay leaf and tomato.
6 Cook for a few minutes, stirring regularly. Lower the heat, cover, and simmer for 5 more minutes.
COLESLAW
1 In a large bowl, combine all the ingredients and set aside.
GARLIC SAUCE
1 In a blender, process all the ingredients.
VENEZUELAN BOWL
1 Divide all the components of the recipe equally into 6 bowls, assembling as desired.
Cooking Tips
It is ideal to prepare the individual ingredients in advance so when it's time to eat, everything is ready and it is only a matter of assembling and serving the bowls.
When chopping the cilantro, make sure to include the stems.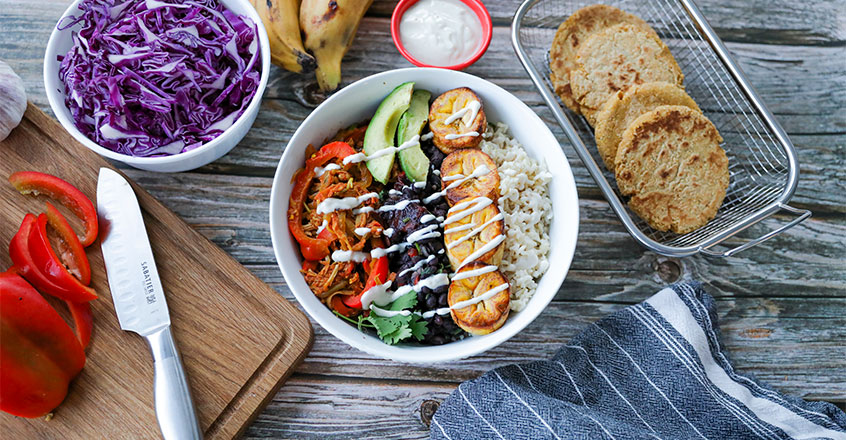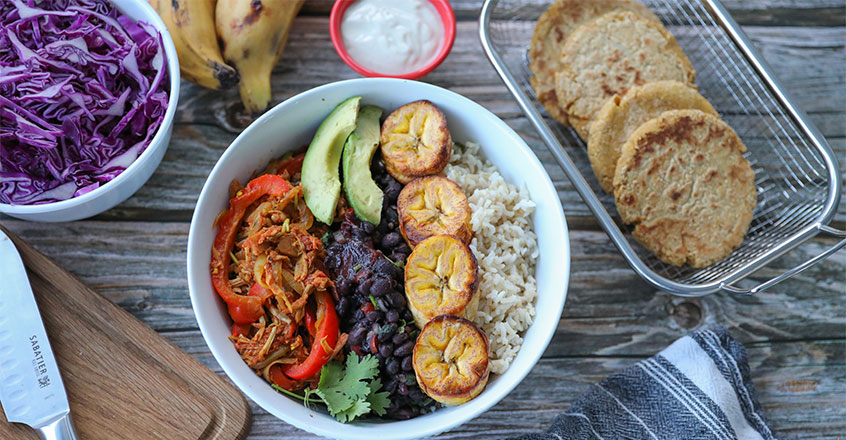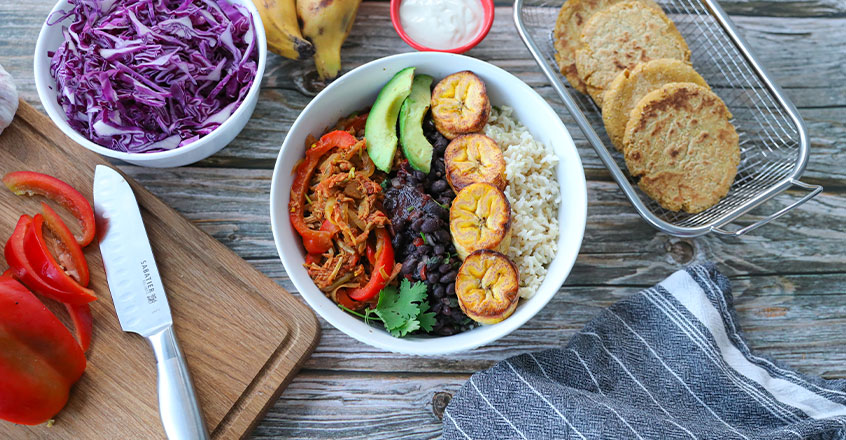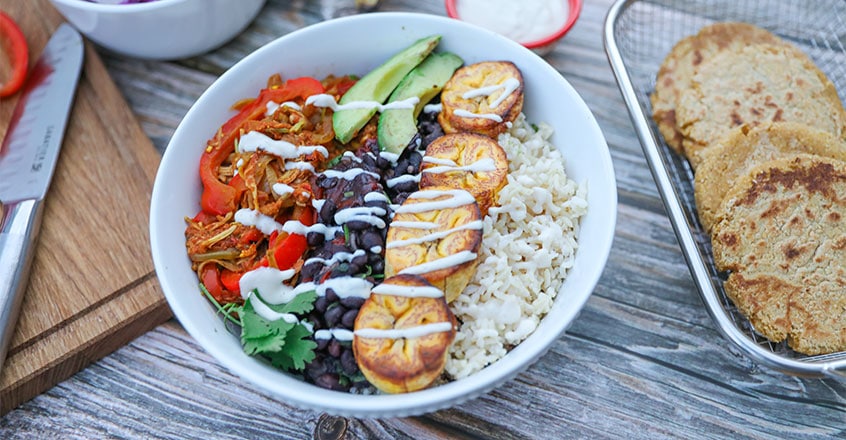 Copyright 2022 Center for Nutrition Studies. All rights reserved.