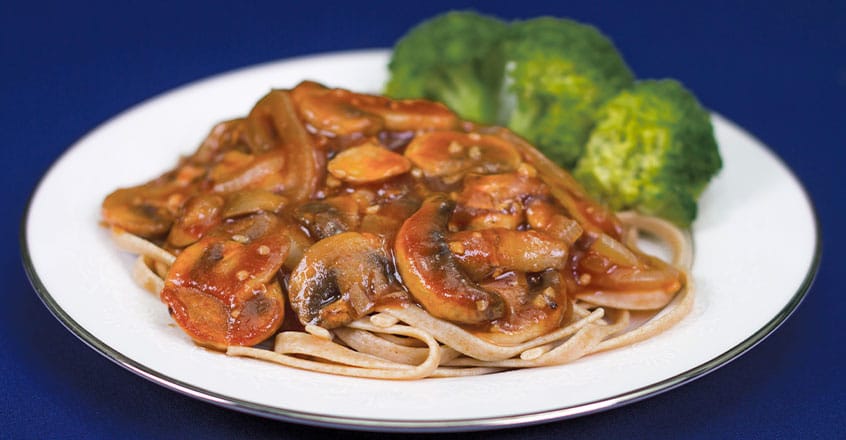 These mushrooms are especially delicious served over brown rice, mashed or baked potatoes, barley, or whole-grain pasta.
Reprinted fromThe PlantPure Kitchen (BenBella Books, 2017)
What You'll Need
---
VEGETABLES
1 pound button or other mushrooms or a combination, sliced
1 onion, halved then thinly sliced
¼–½ cup low-sodium vegetable broth
SAUCE
½ cup low-sodium vegetable broth, or more as needed
½ cup unsweetened applesauce
2 Tbsp bourbon, dry white wine, or pineapple juice
1 tsp grated fresh ginger
How to Make It
---
1 In a large skillet over medium-high heat, sauté the mushrooms, onion, and garlic in a little of the vegetable broth until the mushrooms are tender, about 8 minutes. Add more vegetable broth as needed to keep the vegetables from sticking.
2 In a small bowl, whisk together the sauce ingredients until well combined. Add the sauce to the skillet with the mushrooms, reduce the heat to medium, and cook until bubbly and thickened, 3 to 4 minutes. Reduce the heat to low and continue cooking for another 10 minutes. If you like your sauce thinner, add more vegetable broth, ¼ cup at a time. Serve warm over rice, potatoes, barley, or pasta.
Cooking Tips
I like to use a mix of sliced portobello and shiitake mushrooms for an especially meaty texture. This makes a wonderful addition to a baked potato bar!
Copyright 2022 Center for Nutrition Studies. All rights reserved.