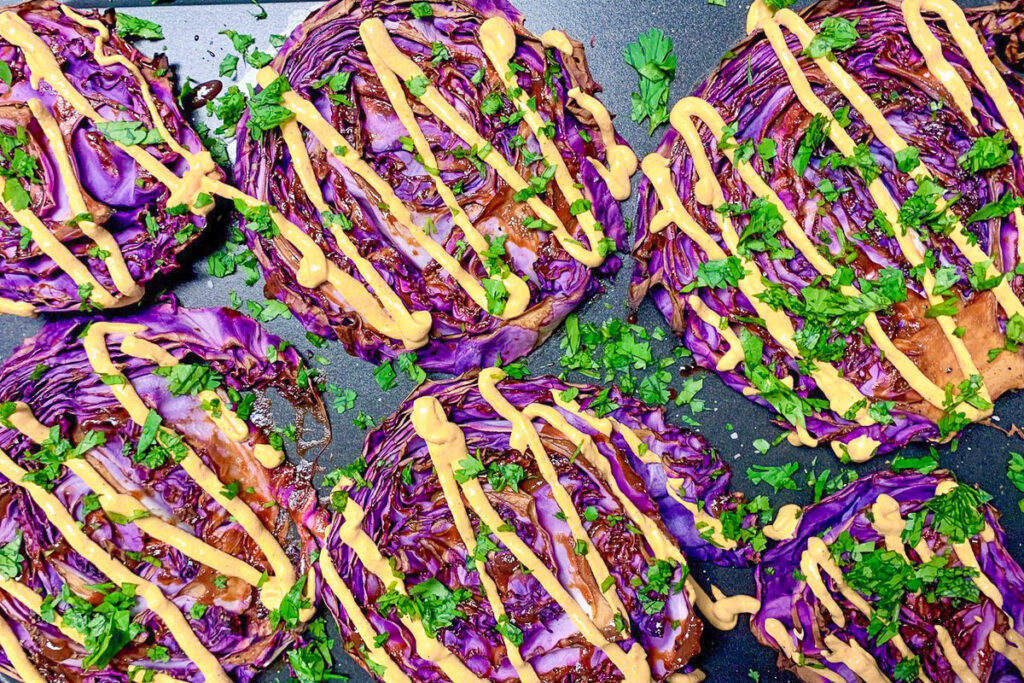 Ingredients
Red Pepper Tahini Sauce
1 medium red bell pepper, roughly chopped
1 clove garlic, minced
¾ cup tahini
½ cup water
2 Tbsp fresh lemon juice
½ tsp salt (optional)
½ tsp coarsely ground black pepper
Red Cabbage Steaks
1 head red cabbage
2 Tbsp balsamic vinegar (or flavored balsamic)
Salt and coarsely ground black pepper, to taste
2 Tbsp yellow mustard
1 Tbsp date syrup or date paste
¼ cup chopped fresh cilantro
Instructions
Red Pepper Tahini Sauce
1. Heat a large skillet over high heat. Add bell pepper and sauté until just tender. Add garlic and continue sautéing for another moment or two, until you can smell the garlic. Remove from heat.
2. In a food processor, blend red pepper and garlic with tahini, water, lemon juice, salt and pepper. Process until smooth.
Red Cabbage Steaks
1. Preheat oven to 400 degrees F.
2. Remove and discard the tough outer leaves of the cabbage. With the head of cabbage standing upright on a cutting board, carefully slice "steaks" evenly from top to bottom, about ¾-inch each. (You'll probably end up with around 6 to 8 of them.)
3. Place cabbage steaks in a large nonstick roasting pan or a large baking sheet lined with a silicone baking mat or parchment paper. Brush cabbage steaks evenly with balsamic vinegar and sprinkle with salt and pepper.
4. Roast cabbage steaks uncovered for 45 to 50 minutes, or until tender.
5. While the cabbage is roasting, mix the yellow mustard and date syrup in a small bowl. Set aside.
6. When the cabbage steaks are tender, remove from the oven. Brush top of cabbage with the sweetened mustard sauce. Drizzle red pepper tahini sauce and sprinkle with fresh cilantro. Serve warm.
100% online, learn at your own pace
Instructor led format
No prerequisites
Continuing education credits