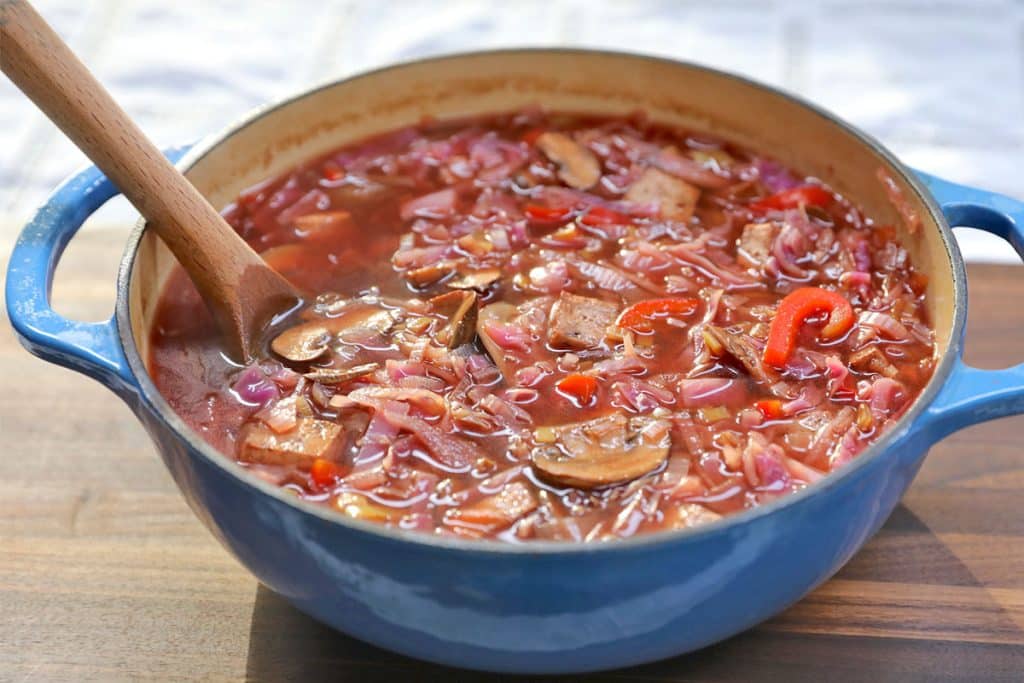 Ingredients
1 Tbsp low sodium tamari
¼ tsp liquid smoke (or 1/2 teaspoon smoked paprika)
½ a block firm tofu, drained and pressed, cubed
1 cup leek, chopped
2 tsp garlic, minced
5 - 6 baby bella mushrooms, sliced
2 Tbsp balsamic vinegar
3 cups purple cabbage, chopped
½ cup bell pepper, chopped
½ cup sauerkraut + 1/2 cup of sauerkraut juice
1 tsp caraway seeds
7 cups vegetable broth
2 tsp low sodium tamari
2 tsp - 1 Tbsp Sriracha hot sauce
1 Tbsp lime juice
Instructions
1. Preheat oven to 400 degrees F.
2. Make the marinade for the tofu by mixing the tamari and liquid smoke in a bowl, then coat the tofu cubes in the marinade. Toss so they get evenly coated and allow to marinate for at least 10-15 minutes.
3. Arrange tofu on a parchment lined baking tray and bake for 12 minutes at 400 degrees F.
4. In a large soup pot over medium heat, add a couple tablespoons of water and when the water begins to boil, add in the chopped leek and saute for 5 minutes.
5. Add the chopped mushrooms and garlic to the pot and cook for another 5 minutes or until mushrooms have lost their water.
6. Deglaze the mushrooms by adding the balsamic vinegar and cooking for another minute or so. Then add in the purple cabbage, bell pepper, sauerkraut and sauerkraut juice, caraways seeds, vegetable broth, hot sauce, lime juice, and tamari (or salt lightly to taste).
7. Bring to a boil and then lower the heat slightly and simmer uncovered for 25 minutes.
8. Add in the baked tofu and taste to adjust the amount of salt, hot sauce, and lime juice before serving.
100% online, learn at your own pace
Instructor led format
No prerequisites
Continuing education credits