Carrot and Sweet Potato Purée Soup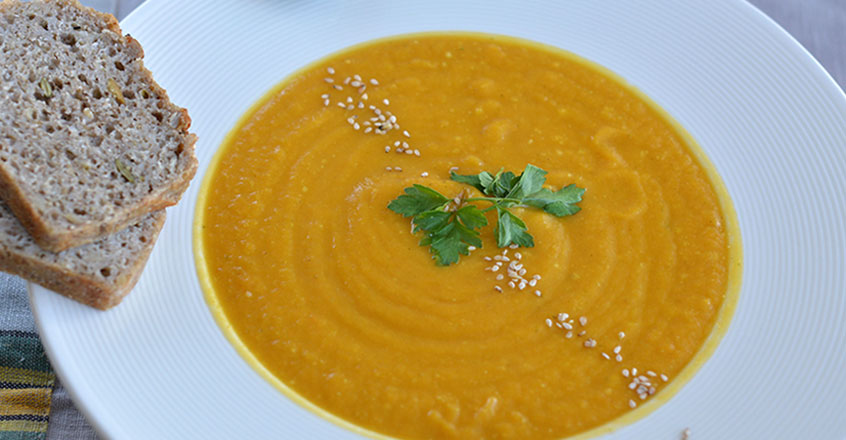 1½ inch piece ginger, peeled and chopped
2 Tbsp vegetable broth powder
1½ pounds carrots, cut into smaller pieces
1 medium sweet potato, cut into small cubes
1 In a thick-bottomed soup pot, heat 2 Tbsp of water. Once it starts to sizzle, add chopped onions. Sauté until the onions become translucent adding water one tablespoon at a time to prevent sticking. Throw in the garlic and ginger and sauté for another minute.
2 Add sweet potato, carrots, vegetable broth and enough boiling water to cover the veggies. Stir well. Bring to boil and let it simmer until the veggies are soft enough for pureeing – about 10-13 minutes.
3 Let the soup cool down a bit, then add the cashews (you may soak them first) and puree with an immersion blender or regular blender. Add a little boiled water if the soup is too thick.
4 Garnish with parsley and enjoy!
Cooking Tips
Add some boiled red lentils, chickpeas or other beans for a heartier soup.
Top the soup with a tablespoon of nutritional yeast for a cheesy flavor.
Copyright 2019 Center for Nutrition Studies. All rights reserved.