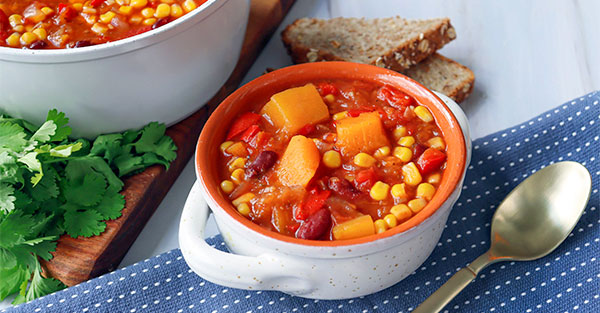 Ingredients
½ cup water or low-sodium vegetable stock
1 Tbsp low-sodium soy sauce
1 onion, chopped
1 red bell pepper, diced
4 large cloves of garlic, minced
1 lb (about 4 cups) butternut or other winter squash
1 15oz can crushed or ground tomatoes
1 cup water
1 15oz can kidney beans
1½ cups corn, fresh or frozen
1½ tsp oregano
1 tsp chili powder
½ tsp cumin
¼ tsp black pepper
Instructions
1. Heat ½ cup water or stock and soy sauce in a large pot, then add the onion, bell pepper, and garlic.
2. Cook over medium heat until the onion is soft and most of the water has evaporated.
3. Cut the squash in half and remove the seeds, then peel it and cut it into 1/2-inch cubes.
4. Add the squash to the onions, along with the chopped tomatoes, 1 cup of water, oregano, chili powder, cumin, and pepper.
5. Cover and simmer until the squash is just tender when pierced with a fork, about 15 minutes.
6. Add the kidney beans with their liquid and the corn. Continue cooking another 5 minutes.
Cooking Tips
1. For a festive look, serve it in a hollowed out bread bowl or pumpkin.
100% online, learn at your own pace
Instructor led format
No prerequisites
Continuing education credits