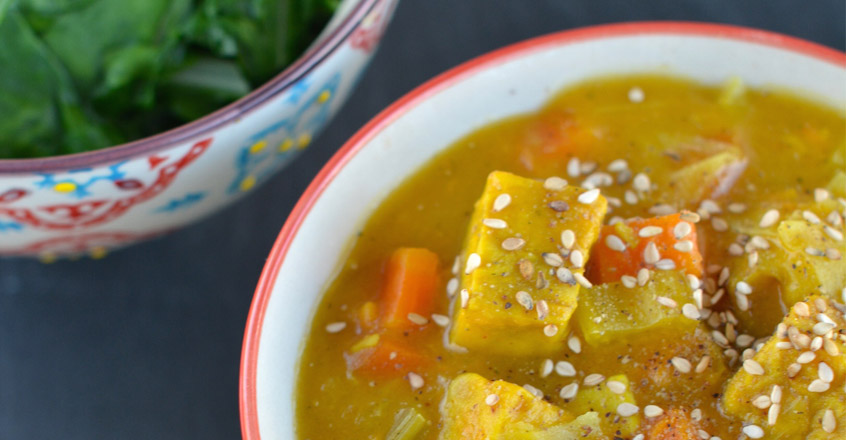 Ingredients
1 Tbsp onion flakes
1 tsp garlic powder
1 tsp curry powder
1 tsp turmeric
1-2 tsp vegetable broth powder
2 celery stalks, finely chopped
2 medium carrots, chopped
1 sweet potato, cut into cubes
1 8 oz. package of tempeh
2 handfuls of chopped cabbage
2 Tbsp starch (potato or corn) + oat milk to thicken the curry
Instructions
1. Put everything except cabbage and starch/oat milk into a pot. Add enough water to almost cover the ingredients. Bring to boil, mix well and simmer for 10 minutes.
2. Now add cabbage and simmer until the cabbage is done (about 10 more minutes, depending on how big your cabbage chunks are).
3. Mix the starch with some oat milk (add it gradually to avoid lumps) or with broth from the pot. Make sure you have a nice and smooth liquid without any lumps.
4. Pour the mixture into the curry while mixing it at the same time. Keep stirring until it comes to boil again and then turn off the heat. Let it sit for 10 more minutes.
5. Serve with a salad or steamed greens.
100% online, learn at your own pace
Instructor led format
No prerequisites
Continuing education credits