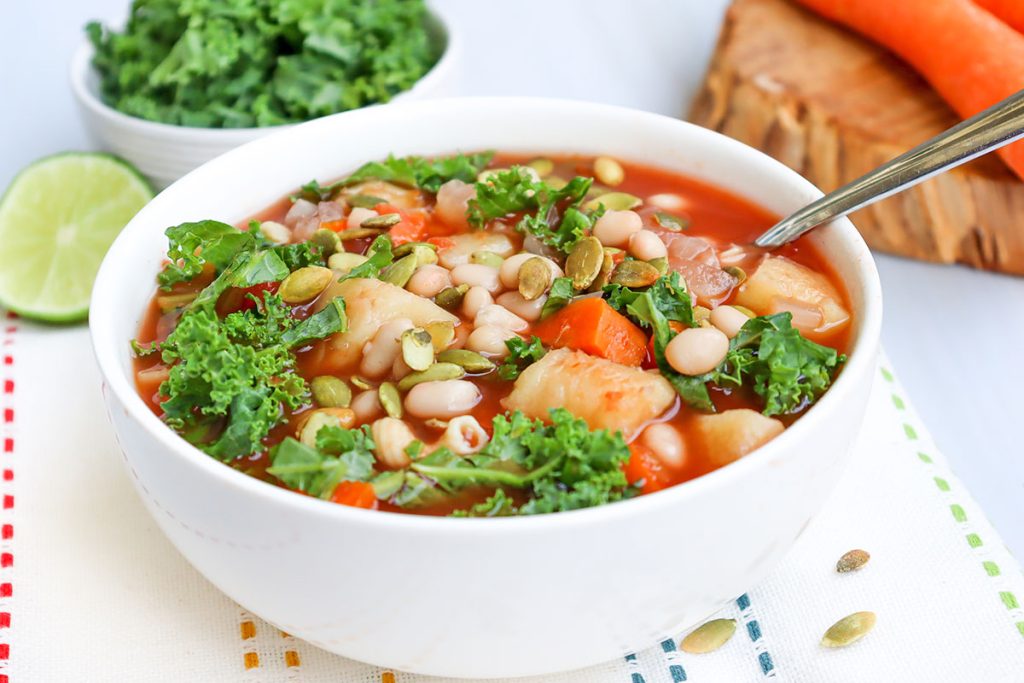 Ingredients
2 carrots, peeled & diced
1 stalk celery diced
1 garlic clove, minced
1 large shallot, minced
4 Tbsp vegetable broth (or water)
1 can 28-ounce crushed tomatoes
7 cups water
3 cups kale, stems removed, cut into bite-sized pieces
1 yam peeled and cut into 1/4 inch cubes
1 bay leaf
½ cup elbow macaroni
1 can navy beans rinsed and drained thoroughly
1 tsp salt
½ tsp pumpkin pie spice
3-5 grinds of fresh black peppercorns
6 Tbsp pumpkin seeds
Lemon for garnish (optional)
Instructions
1. Heat vegetable broth in large soup pot on low. Saute carrots, celery, garlic and shallot in broth until soft about 3 – 4 minutes.
2. Add canned tomatoes, water and bay leaf. Bring to a boil.
3. Add kale and yam. Reduce heat to medium, keeping a slow boil. Cook for an additional ten minutes, until yam is tender.
4. Add pasta and cook for an additional ten minutes until pasta is tender.
5. Add beans, salt, pepper and pumpkin pie spice. Heat 1-2 minutes until fully incorporated and beans are heated through.
6. Discard bay leaf and serve. Top each bowl with 1 Tbsp pumpkin seeds and a half-slice of lemon.
100% online, learn at your own pace
Instructor led format
No prerequisites
Continuing education credits