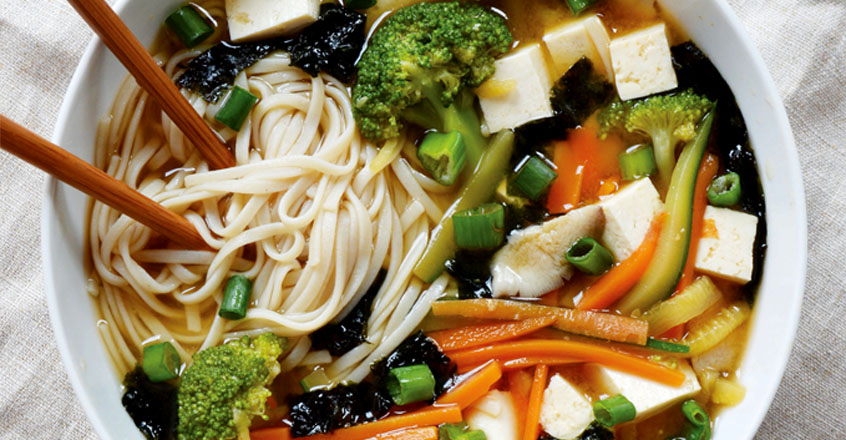 Ingredients
4 servings of soba or brown rice noodles, uncooked
3 cups vegetable broth
3 cups water
1 cup julienned carrot
1 cup julienned zucchini
1 cup thinly sliced shiitake mushrooms
1 cup broccoli florets
3 Tbsp miso paste
1 (14-ounce) package firm tofu, cut into 1-inch cubes
¼ cup chopped green onions
1 sheet roasted nori seaweed, broken into pieces
Instructions
1. Prepare the noodles according to the instructions on the package. Set them aside.
2. In a medium saucepan over high heat, bring the vegetable broth and water to a boil. Add the carrot, zucchini, mushrooms, and broccoli, reduce the heat, and simmer for 5 minutes.
3. Use a ladle to transfer 1 cup of broth to a small bowl. Use a fork to dissolve the miso paste into the broth, then return it to the pot. Add the tofu, green onions, and cooked noodles, then simmer for 1 more minute, until everything is warm.
4. Transfer to bowls and top with the nori seaweed.
Cooking Tips
1. "Julienned" means sliced into matchstick shapes.
100% online, learn at your own pace
Instructor led format
No prerequisites
Continuing education credits