Vegetable Mineral "Bone" Broth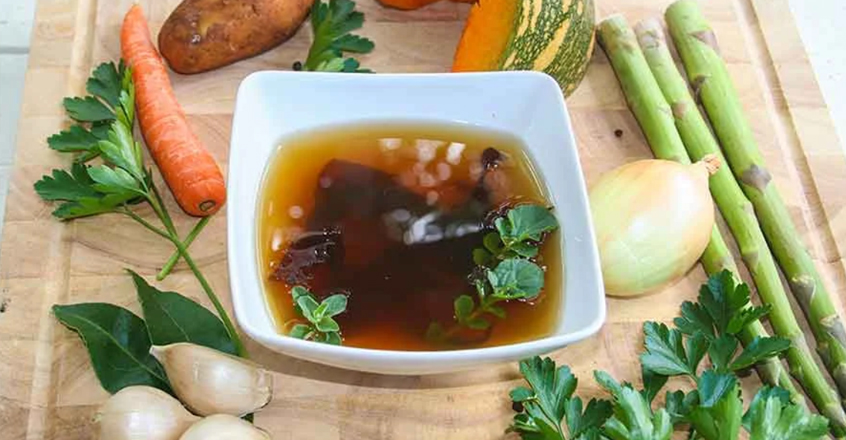 What You'll Need
---
2 x 5-inch strips of dried Kombu seaweed
6 dried shiitake mushrooms
6 carrots cut into chunks
2 medium onions cut into chunks
1 leek, both white and green parts, cut into chunks
1 small bunch of celery including the heart, cut into chunks
5 unpeeled cloves garlic, halved
1 small pumpkin or squash with skin, seeded and cut into chunks
5-inch piece of fresh ginger, sliced
4 cups chopped greens such as kale or chard
1 x 40 g (1.4 oz) pack of dried daikon radish (optional)
How to Make It
---
1 In a large stock or soup pot, combine all the ingredients.
2 Fill the pot to 2 inches below the rim with water, cover, and bring to a boil.
3 Remove the lid, decrease the heat to a medium/low simmer for a minimum of 2 hours.
4 As the stock simmers, some of the water will evaporate; add more if the vegetables are exposed.
5 Simmer until the full richness of the vegetables can be tasted.
6 Strain the stock and pour into glass storage jars. Refrigerating works well with any broth.
Cooking Tips
You can adjust the ingredients accordingly for your own needs.
The longer you simmer the broth, the stronger the taste will be.
You can drink 2 to 3 cups daily in between meals.
If you don't have kombu, you can substitute with other edible seaweeds such as dulse or wakame.
Copyright 2022 Center for Nutrition Studies. All rights reserved.