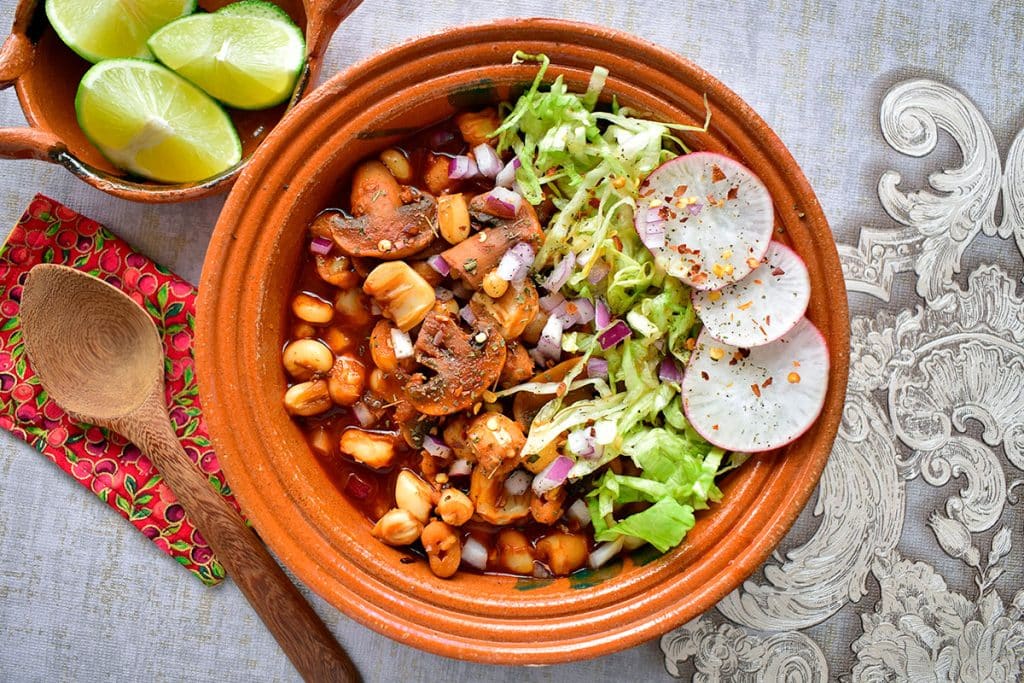 Ingredients
3 cups hominy corn
3 bay leaves
1 Tbsp dried oregano
1 medium onion, chopped in half
4 garlic cloves, divided
4 guajillo peppers
1 ancho pepper
4 cups sliced mushrooms
Salt to taste
For the garnish:
Lettuce
Radishes
Ground piquín chile powder
Ground oregano
Limes
Avocado
Chopped onion
Instructions
1. Rinse the hominy corn until the water runs clear, then add it to a pot with enough water to cover. Add the bay leaves and dried oregano and bring the water to a boil.
2. In a blender, blend half an onion with two garlic cloves, then add it to the pot with the corn. Stir well and salt to taste. If you're using a pressure cooker, the corn will be ready in about 30 minutes.
3. Soak the guajillo peppers and ancho pepper in boiling water until they soften, then add them to the blender with the remaining 2 garlic cloves and half an onion. Set aside.
4. Sauté the mushrooms in a separate pot, then add the cooked corn and the blended chili sauce. Let it simmer until everything is well combined.
5. Adjust the salt to taste, add your preferred garnishes, and serve with corn tostadas.
100% online, learn at your own pace
Instructor led format
No prerequisites
Continuing education credits