This article has been reprinted with permission from GroundedGrub.com.
In a recent article, Grounded Grub co-founder and author Hannah Fuller explored the Hunts Point Strike, in which food system workers and their union representatives in the Bronx, New York, demanded a $1.00 pay increase and better health insurance during the COVID-19 pandemic.
Even amid the spread of the virus and throughout all historically contentious times, food system workers from field laborers, to truck drivers, to market and grocery store workers have kept meals on our plates. In their own contributions, they protect us from hunger. But who is protecting them from the many dangers associated with working within the food system? Our modern food system is built on slave labor, unlivable wages, racism, sexism, greedy capitalism, and biased federal policies like the North American Free Trade Agreement (NAFTA). While these problems might at first seem exaggerated, a closer look reveals how real they are. These topics may feel impossible to take on, but the food system and its tangential issues have been tackled and successfully changed before, setting a precedent to do it again.
A key motif in this book is the power of the collective voice over that of the individual. The most prominent aspect of Marquis' writing is her insistence to include the Coalition's mission to work with field workers and not for them.
In Susan Marquis' I Am Not a Tractor! How Florida Farmworkers Took On the Fast Food Giants and Won, the author showcases a real-world tale of abuse, bravery, partnership, social organizing and mobilization, and achievement over the oppression inflicted by our contemporary system of agriculture in the United States. Marquis describes the persistent, systematic abuses that have led to atrocious working conditions for tomato pickers in Florida. These laborers have been forced into a system of low wages, long working hours, physically and mentally abusive jobs, racist attacks, sexual harassment, deplorable employer-provided housing, and predatory exorbitant prices for household necessities and food at the only stores available to workers. At its best, this system is exploitative, and at its worst it is modern-day slavery. Marquis describes the journey of two lawyers, Greg and Laura, who create a partnership between these relatively powerless fieldworkers and those who could represent them with louder voices. This partnership would lead to the creation of the Coalition of Immokalee Workers (CIW), a group that has fought for decades for fair wages, protected and enforced rights, and the dignified treatment of farm fieldworkers. This fight is one that began with individual stories of violence, abuse, and racism but developed into a collective stand against those who hold the power to change the system: corporations. The CIW first aimed its efforts toward fast food conglomerates like Taco Bell and McDonald's that bought huge supplies of tomatoes from Florida farms. These corporations could afford the minimum price increase of tomatoes (specifically, a penny more per pound) that would, if properly passed down the supply chain, drastically increase the pay and quality of life of tomato field workers. To ensure these wages reached fieldworkers, CIW successfully implemented a payment audit system and "complaint line" that field workers could call to confidentially report wage theft or pay withholdings by their employers.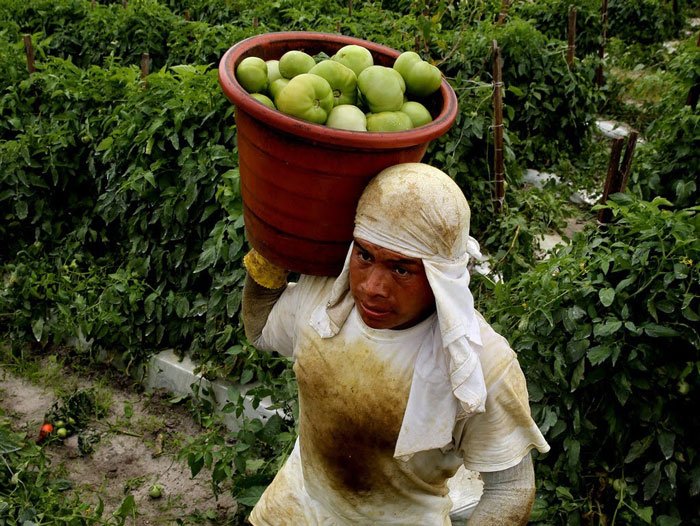 While the CIW did fight for the adequate pay of field workers, it also addressed the abuses field workers faced. The fight for protected rights was a much longer, steeper battle, as it required grand systematic changes at the expense of the farm owners who saw little monetary benefit in protecting immigrant laborers against racism and sexual assault. In the book, Marquis introduced Jon Esformes, who became a key player in this story. Jon, a farm owner, tore down the barrier between farm owners and the CIW by simply offering to open up discussions regarding a code of conduct that could be enforced on his farm for his laborers. This proved to be an effective approach, as it humanized players on both sides of the argument and gave each person their own "seat at the table."
A key motif in this book is the power of the collective voice over that of the individual. The most prominent aspect of Marquis' writing is her insistence to include the Coalition's mission to work with field workers and not for them. This is an important approach for anyone in a position of power to take if they truly want to change the status quo of the powerless. It is vital that we elevate the voices of the voiceless, not talk over them. The CIW ensures the preservation of the dignity of laborers, and while it acknowledges their victimized roles, it does not confine them to victimhood. The CIW ultimately altered the power structure and, in doing so, made sure to humanize every player who had a stake in the tomato-growing industry. They demanded change from those who could implement it and raised the voices of those who demanded this change. Workers who are compensated well and who enjoy their work will be more productive; pride in one's work will yield the best results, and products made with integrity instead of abuse will sell in higher quantities. Perhaps this is a mindset we can all use to approach systematic change.
To hear more about this incredible story, you can register for the Plant Forward Virtual Workshop Series, where CIW staff worker Cruz Salucio will share his first-hand account of arriving in the United States from Guatemala, working under abusive conditions on farms in the United States, and transitioning into a full-time position with the Coalition of Immokalee Workers to fight for justice in the food system.
Copyright 2023 Center for Nutrition Studies. All rights reserved.