Maddie became interested in T. Colin Campbell while her mom was earning the Plant-Based Nutrition Certificate.
Then, twelve year old Maddie interviewed T. Colin Campbell, PhD for her seventh grade National History Day project themed "taking a stand." Here is a picture of Maddie and her partner Jaya featuring the research on whole food, plant-based diets with their impressive History Day presentation.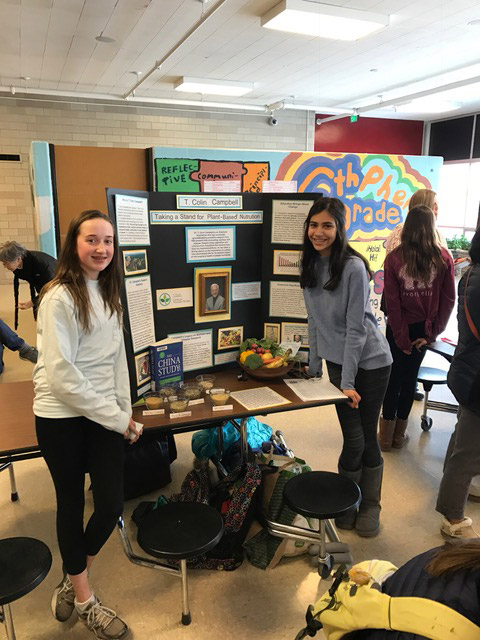 Maddie and Jaya, prepared interview question in advance, then had a Skype interview with Dr. Campbell in early 2017. T. Colin Campbell was happy to do the interview. He stated "for some reason, ever since The China Study was published, one of the common age/gender groups I hear from are 12-13 year old girls!"
We encourage the leaders of tomorrow to understand and "take a stand" on food, health and nutrition. We are hopeful for the sake of our future health and for the planet.
Interview Questions
What compelled you to become a biochemist?
At what point in your life were you compelled to make the change to a whole food food plant based diet?
What is your main goal to accomplish at this stage of your career? Or if you have already achieved your goal, what is that goal?
What is the biggest obstacle in getting people to eat a whole food plant based diet?
What do you see as the next step to improving the conversion of a whole food plant based diet for our generation?
What would you say is your main achievement in taking a stand against the standard American diet?
What do you consider your greatest accomplishment overall throughout your research career? What is your legacy?
We apologize in advance that the audio and visual timing are not perfectly in synch, but trust that you will enjoy this meaningful 17 minute exchange between two seventh grade girls and a world renowned, Cornell emeritus professor (over seven decades their senior).
Copyright 2023 Center for Nutrition Studies. All rights reserved.