The following is an article from a Community Grant recipient.
Paul Chatlin is the founder of Plant Based Nutrition Support Group (PBNSG), a Michigan-based 501(c)(3) nonprofit organization dedicated to providing education and advocating for the use of a whole food, plant-based (WFPB) lifestyle to help prevent and reverse chronic disease and achieve optimal health. His story is astonishing for two reasons.
The first is that in May 2013 he was diagnosed with heart disease, and the crisis seemed insurmountable. One artery was 100% blocked, two others were 65% blocked. He also suffered from leaky valves, an enlarged heart, the thickening of the right side of his heart, left bundle branch block, and heart murmur. He couldn't walk more than seven steps without triggering excruciating chest pain.
The possibility of a heart transplant was ruled out when he underwent a heart catheter procedure, and his cardiologist gave him two options: triple bypass surgery or "plant-based nutrition." He said he would try anything other than bypass surgery, so his doctor called Dr. Caldwell B. Esselstyn, who answered the phone at 11 p.m. to talk to the doctor.
The number of people who have rescued their health by adopting a WFPB dietary lifestyle is enormous and rapidly growing.
The next morning, Dr. Esselstyn called Paul and they spoke for an hour. In the following three weeks, his angina disappeared; in the following year, Paul's cholesterol levels dropped from 347 to 88; he lost (and has kept off) 75 pounds, and today he feels great. He points to three miracles in his story: 1) being admitted into the Cleveland Clinic in just three weeks, 2) being assigned to a doctor (it could have been so many other doctors) whose mentor was Dr. Esselstyn, and 3) Dr. Esselstyn picking up the phone so late that night.
He held the first official PBNSG meeting in February 2014, with the goal of giving back.
The second reason his story is astonishing is that he is not an anomaly. The number of people who have rescued their health by adopting a WFPB dietary lifestyle is enormous and rapidly growing. When Paul held the first PBNSG meeting more than seven years ago, 123 people showed up; now they have over 9,200 members around the world!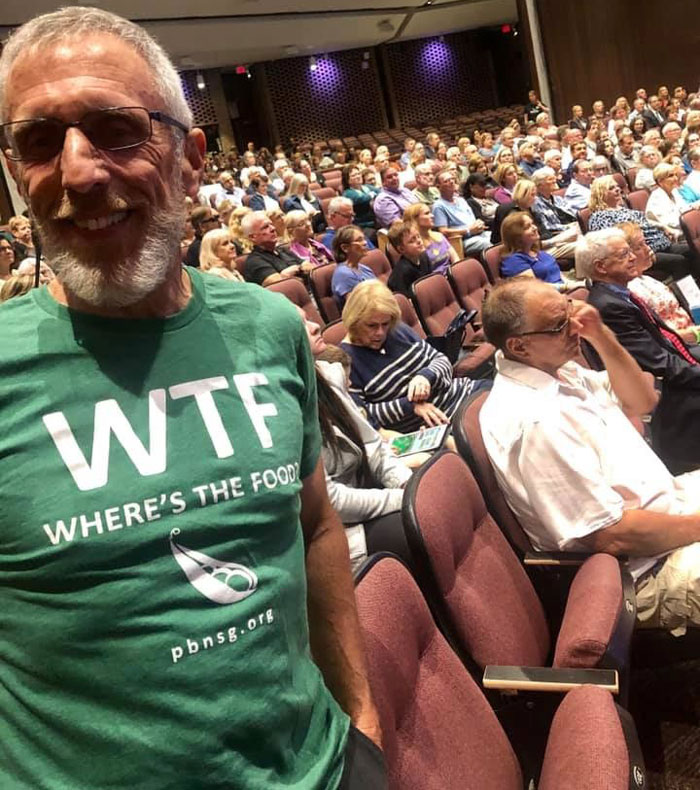 PBNSG is the largest WFPB support organization in the world. What sets them apart from most other vegan and vegan advocacy groups is their commitment to the plant-based, oil-free diet as taught by Dr. Esselstyn.
Another thing that makes them different is that they've transitioned from having small local or regional support groups to offering ongoing support and free virtual monthly meetings for anyone from any location. These meetings involve expert presenters leading discussions on plant-based health topics, as well as attendees discussing some of the successes and obstacles they've faced while adopting a WFPB lifestyle. Participants are encouraged to offer each other support and suggestions, and those unable to attend can access video replays.
They're also beginning to offer support group meetings that focus on specific health challenges or goals, such as heart disease, diabetes, obesity, athletic performance, and digestive health. Their weekly presentations and culinary events feature prominent medical professionals and plant-based chefs from around the world, and by making these events virtual, they're able to reach a much wider audience.
PBNSG-U is the online education platform they're now developing to provide extra assistance and information to individuals on a WFPB journey. It's their biggest project and support program yet, and it will include various modules and topics facilitated by plant-based nutrition and healthcare experts. Courses will be pre-recorded so that enrollees can learn at their own pace, and facilitators will schedule monthly and quarterly virtual classes to meet with those who have questions or need additional information about a topic.
While the nonprofit was created to help as many people as possible learn about and enjoy the healing power of oil-free plant-based nutrition, they're especially focused on reaching two segments of the population: those trying to achieve optimal health, and medical professionals.
The first group includes people of all ages who are striving to achieve optimal health through a plant-based diet—people who are trying to overcome disease, prevent future disease, achieve weight loss, and improve their quality of life. Mostly, their goals can be summarized very simply: they are looking for a healthier way to eat and live. They may be mothers or fathers, teenagers or senior citizens. They're people who recognize that their current diets are not supporting their life goals, but may need some help managing the transition or adhering to the diet.
It's also really important to reach receptive medical students and doctors. Many of them would like to learn more about plant-based nutrition so that they can offer it as an alternative to pills and procedures; they just need the right platform to learn that information, and that's exactly what's being created with PBNSG-U. While medications often cure the symptoms of chronic lifestyle-related diseases, they do little or nothing to address the underlying problems. PBNSG hopes that by educating medical students and doctors on an oil-free plant-based diet and its effectiveness, more patients in the future will be offered the choice that saved Paul's life.
PBNSG resources, affiliates, merchandise, recipes, and information on how to join can be found online, as well as on Facebook and Instagram. Their separate group, Walker's Way, caters to families to help them learn about the nutritional benefits of a WFPB diet, and provides guidance on meals, products, and easy recipes.
The T. Colin Campbell Center for Nutrition Studies (CNS) is committed to increasing awareness of the extraordinary impact that food has on the health of our bodies, our communities, and our planet. In support of this commitment, CNS has created a Community Grant initiative to empower sustainable food-based initiatives around the world by providing grants to enable innovative start-ups and to propel the growth of existing initiatives. Please consider making a donation to this great cause. 100% of your donation will go to support initiatives like the one you just read about in this article.
Copyright 2023 Center for Nutrition Studies. All rights reserved.