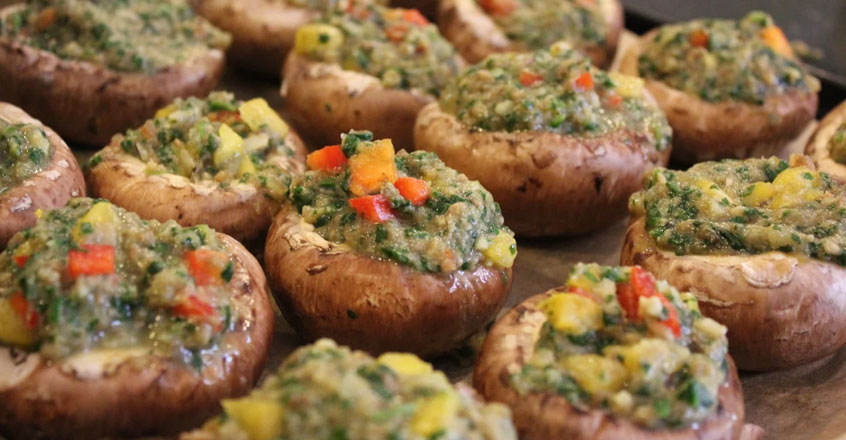 Ingredients
16 oz whole cremini or white mushrooms
3 garlic cloves, crushed
¼ cup onion, diced
¼ cup dry white wine
2 Tbsp low sodium soy sauce or tamari
3 cups baby spinach
¼ cup white beans
2 Tbsp nutritional yeast
¼ red pepper, finely minced
Instructions
1. Preheat oven to 350 degrees F.
2. Remove stems from mushrooms, leave caps intact and chop stems.
3. Sauté onion, garlic, and mushroom stems together in a pan.
4. Stir in wine and soy sauce or tamari, and continue to cook until vegetables become tender.
5. Stir in baby spinach until wilted.
6. Transfer vegetable mixture to a food processor.
7. Add beans and nutritional yeast and blend to combine.
8. Transfer to a bowl and stir in diced red pepper.
9. Set mushroom caps top side down in a baking dish.
10. Add a spoonful of the filling to each cap.
11. Bake for 20 minutes.
12. Remove from the oven and serve hot.
Cooking Tips
1. Try using kale or arugula instead of spinach.
2. Use large portobellos caps and fill them to serve as a main dish.
100% online, learn at your own pace
Instructor led format
No prerequisites
Continuing education credits