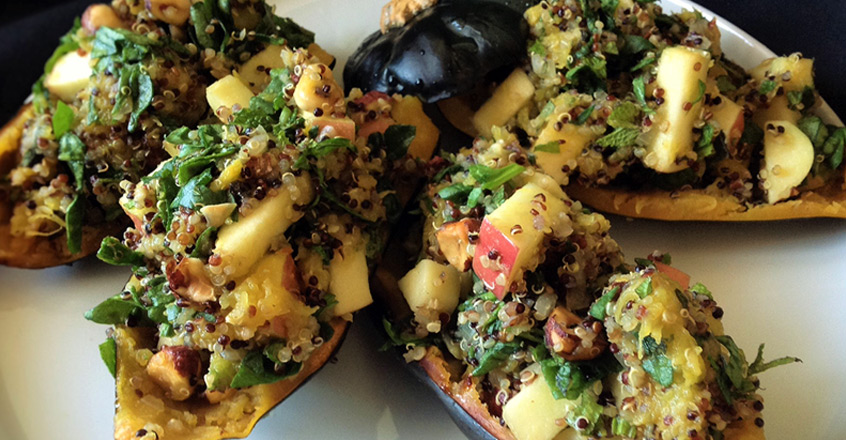 Ingredients
2 acorn squash
½ cup quinoa
1 shallot
1 apple
½ cup hazelnuts
2 cups spinach
¼ cup fresh mint
2 Tbsp apple cider vinegar
¼ tsp salt
Instructions
1. Preheat oven to 425 degrees F.
2. To roast the squash: cut the top stems off and cut in half. Use a large spoon to scoop out the seeds. Then cut the squash into quarters and place cut-side-down, in a roasting pan or dish. Add about ½-inch of water to the bottom of the pan. Roast at 425 degrees F for 35-45 minutes. When the squash is tender enough to scoop out the flesh with a spoon, remove from the oven and set aside to cool.
3. For the quinoa stuffing: peel and mince the shallots and combine with quinoa in a medium pot. Cover and toast over medium heat for about 5 minutes, until the quinoa starts to "pop". Add 1 cup of water and cover. Simmer for about 10-12 minutes. When the quinoa is tender, remove the lid and fluff. Let cool a few minutes in the pot. While the quinoa cooks, prepare the rest of the stuffing.
4. Place the hazelnuts in the 425 degrees F oven and toast 10-12 minutes, until slightly darkened. When the hazelnuts are cool enough to handle, roll them in a clean kitchen towel. This will help the skins peel off. You want to get at least half of the skins off as they are bitter tasting. Roughly chop the hazelnuts.
5. Core and dice the apple and place in a large bowl. Add the cider vinegar and stir well to coat the apple. This will help prevent the apple from browning.
6. Roughly chop the spinach and mint.
7. To assemble the stuffing: Combine the quinoa, hazelnuts, apple, mint, spinach, scooped-out squash, and salt. Stir well to combine. Scoop the stuffing into your squash shells. Cover and bake at 350 for 5-7 minutes, just until warmed, and then serve.
Cooking Tips
1. The quinoa stuffing is also great on its own as an elegant side dish.
2. You can make this stuffed squash a day ahead and simply reheat in a covered baking dish (with a little water in the bottom of the dish) for 10-12 minutes at 350 degrees F.
100% online, learn at your own pace
Instructor led format
No prerequisites
Continuing education credits