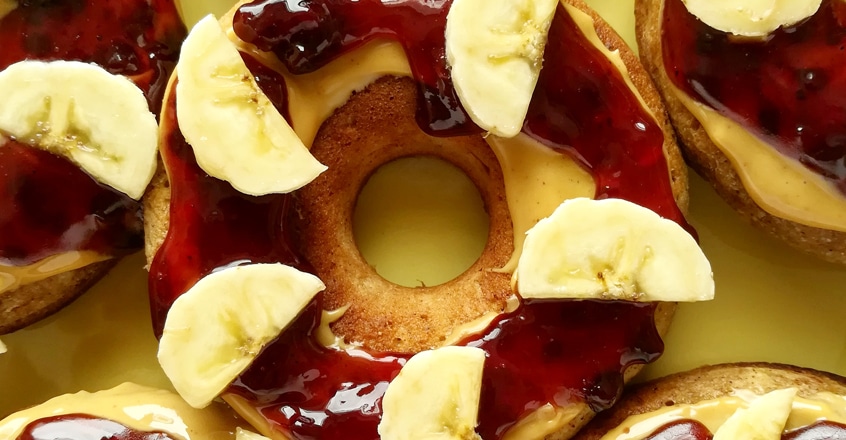 Ingredients
Donuts
½ cup mashed bananas (1-2 ripe bananas)
2 ¾ cups rolled oats
1 tsp ground cinnamon
1 cup seltzer water
2 tsp of baking powder
¼ tsp sea salt
10 medjool dates, pitted and soaked for 30 minutes
Toppings
⅓ cup natural peanut butter (or nut butter of your choice, optional)
1 ripe banana, thinly sliced
Chia Jam
Chia Jam
½ cup mixed berries, fresh or frozen (and thawed)
¼ cup chia seeds
2 Tbsp maple syrup
Instructions
Chia Jam
1. Add berries and maple syrup to a blender and process until a smooth puree forms. Add 1-2 Tbsp of water if necessary to help berries blend smoothly.
2. Pour berry mixture into a bowl, add chia seeds, and mix until well combined.
3. Allow to set for 1-2 hours until jam-like texture forms.
Donuts
1. Preheat oven to 350 degrees F.
2. Add oats to a blender or food processor and grind into a fine powder to create oat flour.
3. Add oat flour and the rest of the dry ingredients to a large mixing bowl and whisk until well combined.
4. Add soaked dates to a blender and blend until they form a smooth paste.
5. Add date paste to dry ingredients, along with remaining wet ingredients, and continue to whisk until smooth.
6. Use a ¼ cup measurer to portion heaping scoops of batter into each cavity of a silicone donut pan. Shake the pan to level the batter.
7. Bake for 25-30 minutes.
8. Allow to cool for 10 minutes before removing donuts from pan.
9. While donuts are cooling, add peanut butter to a microwave safe bowl and microwave for 20 minutes or until liquefied.
10. Place donuts on a plate and spread a layer of chia jam on the surface of each donut. Use a spoon to drizzle peanut butter in stripes on top of the chia jam.
11. Decorate the donuts with banana slices and serve.
100% online, learn at your own pace
Instructor led format
No prerequisites
Continuing education credits