Heart-Shaped Oat & Banana Cookies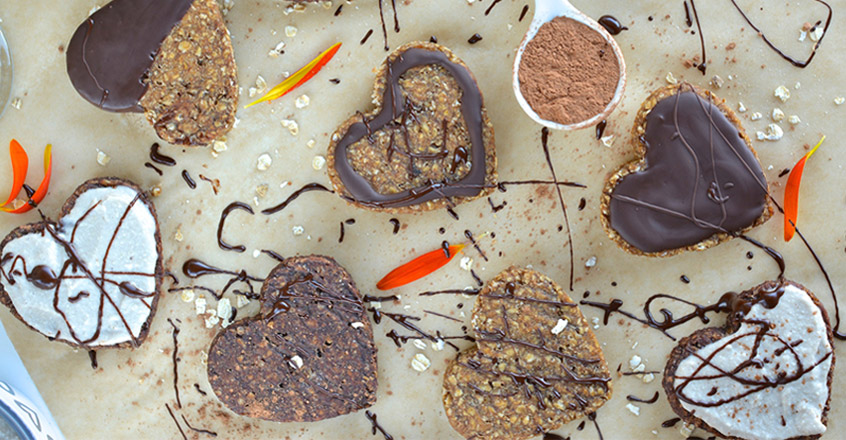 What You'll Need
---
COOKIE INGREDIENTS
2 heaped Tbsp peanut butter
VANILLA ICING INGREDIENTS
Juice from half of a small lemon
Enough water or dairy-free milk to make it smooth, but not too liquidy
CHOCOLATE ICING INGREDIENTS
How to Make It
---
COOKIE PREPARATION
1 In a blender purée bananas and peanut butter with sea salt.
2 In a bowl, mix together banana-peanut purée and rolled oats.
3 Heat oven to 350 degrees F (175 C).
4 Line a baking sheet with parchment paper. Take heart-shaped (or any shape you like) cookie cutter and place it on baking sheet.
5 Take about 1/4 cup of cookie batter and press it evenly into the cookie cutter. Remove the cookie cutter with the spoon. Repeat until you have 8 cookies.
6 Add 2 tsp raw cacao powder to the remaining batter. Also, add a few splashes of dairy-free milk to mix in.
7 Repeat step 5 until the batter is gone.
8 Bake in the middle rack for 16 minutes and let cool.
VANILLA ICING PREPARATION
1 Soak cashews for at least 2 hours. Drain and rinse.
2 Combine all ingredients in a blender and blend until thick cream forms. Add the liquid gradually and only as much as needed to combine all ingredients well.
3 Transfer into a bowl and set aside.
CHOCOLATE ICING PREPARATION
1 Cut dates into small pieces and soak in ¾ cup of water for at least 30 minutes.
2 Blend dates, the soak water, salt and cacao into smooth cream.
3 Decorate the cookies any way you like once they have completely cooled.
Cooking Tips
Store the leftover icing and cookies in the fridge.
Possible uses for any leftover icing – add to your morning oatmeal, spread on pancakes, or use as a muffin topping.
Try drizzling melted vegan chocolate over the top of the cookies.
Copyright 2022 Center for Nutrition Studies. All rights reserved.