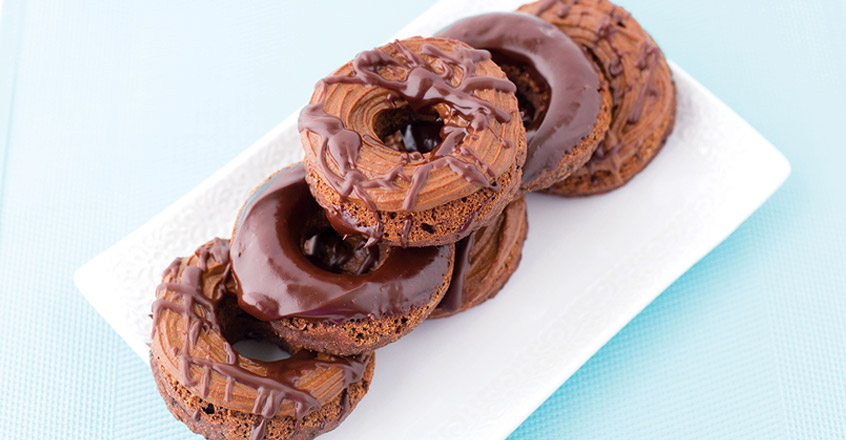 What You'll Need
---
¾ cup whole wheat pastry flour
¼ cup unsweetened cocoa powder
1 tsp double-acting baking powder
¼ tsp sea salt (optional)
¾ cup unsweetened applesauce
¾ cup Date Purée (recipe in tips)
¼ cup unsweetened plant milk
½ tsp pure vanilla extract
CHOCOLATE FROSTING INGREDIENTS
½ cup Sweet potato Purée (see Tips)
¼ cup Date Purée (see Tips)
3 Tbsp unsweetened cocoa powder
How to Make It
---
1 Preheat the oven to 350°F.
2 In a medium-size bowl, whisk together the flour, cocoa powder, baking powder, and sea salt.
3 In a separate bowl, whisk together the applesauce, date puree, plant milk, and vanilla. Add the wet ingredients to the dry ingredients and stir until just combined.
4 Spoon or pipe the batter into eight or nine wells in a nonstick doughnut pan. Bake until the doughnuts spring back when gently pressed, 12 to 15 minutes. Let the doughnuts cool slightly in the pan before transferring to a cooling rack to cool completely.
5 While the doughnuts are cooling, combine all the chocolate frosting ingredients in a food processor and puree until smooth and creamy.
6 Spread 2 to 3 tablespoons of the chocolate frosting over each doughnut. Serve.
Cooking Tips
It is important not to overmix any batter or dough when baking, and especially when baking without oil or added fat. Overmixing causes the finished product to be tough and chewy.
Oil-free baked goods go from done to overdone very quickly. Watch the timer and check them in the last few minutes of baking. If they feel firm on top, they are done.
Sweet Potato Purée – Preheat the oven to 350°F. Put 2 large sweet potatoes on a baking sheet and pierce each potato a few times with a fork. Bake until the potatoes are very tender, about 1 hour. Let the potatoes cool to room temperature. Cut the potatoes in half and scoop the potato flesh from the skins into a food processor. Puree until smooth and creamy.
Date Purée – Combine 2 cups pitted dates and 2 cups water in a small saucepan. Cover and cook over medium heat until the dates are tender, about 10 minutes. Drain and reserve the cooking water. Purée the dates in a blender, adding just enough water to make a creamy consistency.
Copyright 2022 Center for Nutrition Studies. All rights reserved.