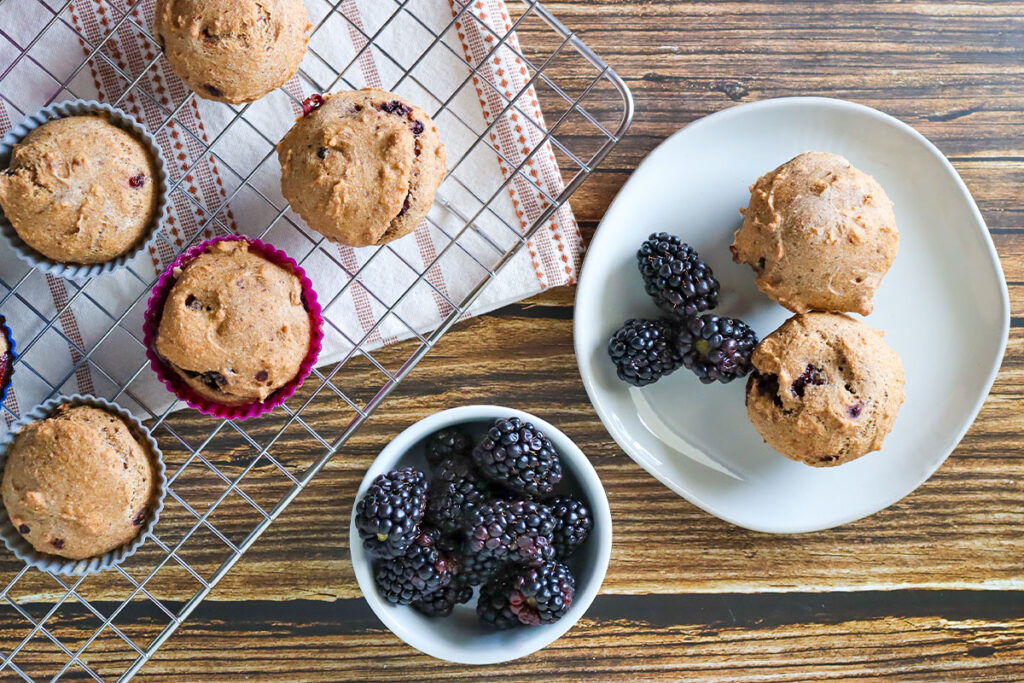 Ingredients
2 cups whole wheat pastry flour
½ cup Sucanat
1½ tsp baking powder
1 tsp grated lemon zest
½ cup plain soy yogurt
1 cup nondairy milk
1 Tbsp lemon juice
2 egg replacers (2 Tbsp ground flaxseed meal with 6 Tbsp water)
1 cup blackberries
2 Tbsp unsweetened reduced fat coconut (optional)
Instructions
1. Preheat oven to 350 degrees F.
2. Line a 12-cup muffin pan with paper liners (or use a nonstick pan).
3. Combine flour, Sucanat, baking powder, and zest in a medium bowl.
4. Mix together soy yogurt, milk, lemon juice, and egg replacers in a separate bowl.
5. Pour the wet mixture into the dry mixture and stir until just moistened.
6. Gently fold in the blackberries.
7. Spoon mixture evenly into the prepared muffin cups.
8. Sprinkle coconut over the tops for decoration (optional).
9. Bake in preheated oven for 45 minutes, or until a toothpick inserted into the center of a tea cake comes out clean. Cool slightly before serving.
Cooking Tips
1. Raspberries can be substituted for the blackberries in this recipe.
100% online, learn at your own pace
Instructor led format
No prerequisites
Continuing education credits