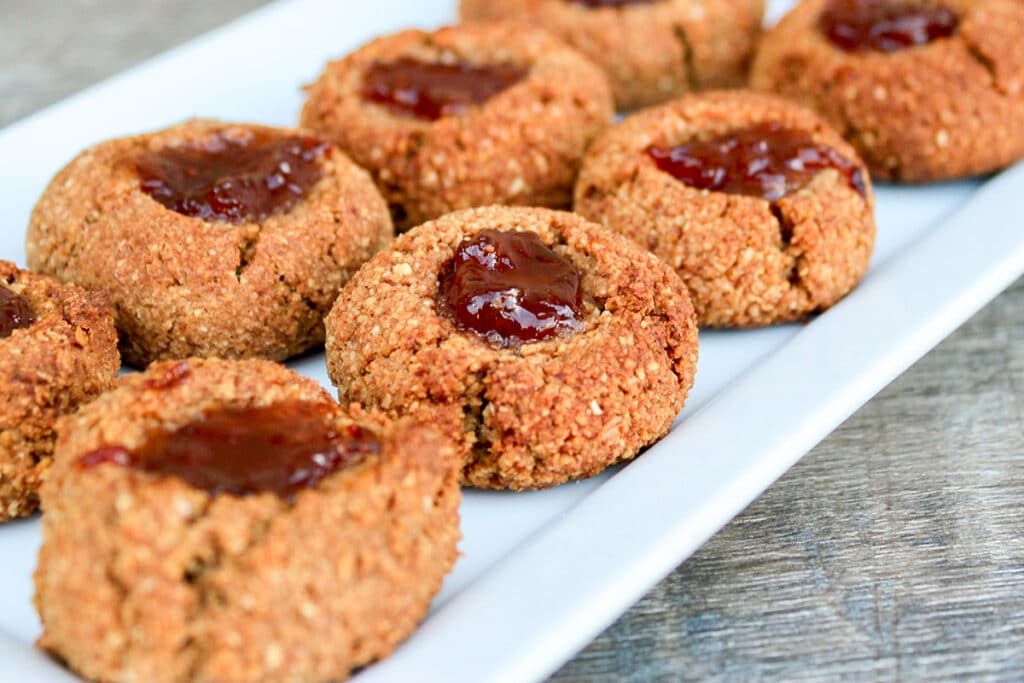 Ingredients
1 cup oat flour
½ cup almond flour
6 Tbsp date sugar
2 Tbsp ground flaxseed
½ tsp baking powder
¼ tsp baking soda
½ tsp ground cinnamon
Pinch of sea salt
½ cup unsweetened non-dairy milk
¼ cup fruit-sweetened jam
Instructions
1. Preheat the oven to 350 degrees F.
2. Line a baking sheet with parchment paper.
3. In a mixing bowl, whisk together the oat flour, almond flour, date sugar, flaxseed, baking powder, baking soda, cinnamon, and salt.
4. Add the non-dairy milk, and use a spoon or your hands to thoroughly mix the dough. It should be thick but not too sticky. If it is too wet, add a little more oat flour and mix well.
5. Scoop out about 1 Tbsp of dough and roll it into a ball.
6. Place on the baking sheet and continue with the remaining dough, positioning balls about 1-2 inches apart.
7. Press the center of each cookie with your thumb to create a well to accommodate ¼ tsp of jam.
8. Fill each thumbprint with ¼ tsp of jam.
9. Bake cookies until lightly golden brown, about 30 minutes.
10. Transfer the baking sheet to a cooling rack for a few minutes to cool.
Cooking Tips
1. If you need to make sure these cookies are gluten-free you can buy oat flour that is labeled as gluten-free or make your own flour at home with gluten-free oats.
2. To prevent the dough from sticking, have a small bowl with water available to moisten your hands before rolling the dough into balls and pressing thumbprint.
3. These cookies are preferable fresh out of the oven. If you store them in the refrigerator, it would be best to heat them for a few minutes in the oven before serving.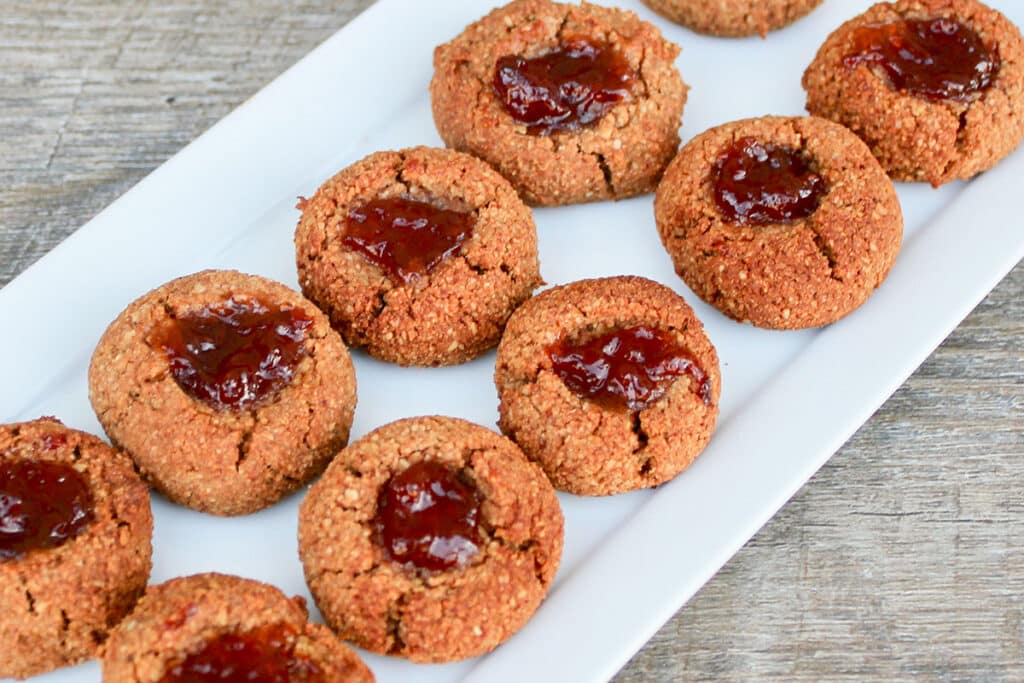 100% online, learn at your own pace
Instructor led format
No prerequisites
Continuing education credits