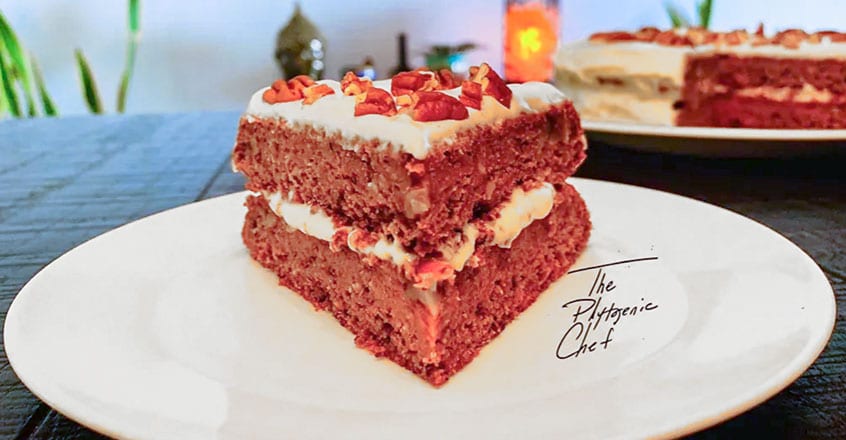 Ingredients
Cake
3 flax eggs (see tips)
1 ½ cup organic carrots, grated
1 ½ cup almond flour
1 ½ cup white whole wheat flour
1 ¼ cup unsweetened applesauce
¾ cup almond milk
¾ cup walnuts, chopped
¼ cup maple syrup
¼ cup date paste
1 ½ tsp baking powder
1 tsp ground cinnamon
¾ tsp baking soda
Buttercream Frosting
1 package silken tofu
4 Tbsp maple syrup
2 Tbsp lemon juice
1 tsp vanilla extract
¼ tsp lemon zest
Instructions
Frosting
1. Add all frosting ingredients to a blender or Vitamix and blend until smooth.
2. Scrape frosting into a metal mixing bowl, cover, and place in the freezer.
3. After 1 hour, remove from the freezer and whisk the frosting. Place back in the freezer for another 30 minutes prior to icing your cake.
Cake
1. Prepare flax eggs and set aside.
2. Preheat oven to 350 degrees F. Prepare two 8-inch round cake pans by covering with parchment paper.
3. In a large bowl, whisk together the maple syrup and flax eggs.
4. Whisk in the applesauce, date paste, baking soda, baking powder, and cinnamon.
5. Stir in the carrot and almond milk.
6. Slowly add in the flour, mixing in batches until the batter is thick but still pourable.
7. Fold in the walnuts.
8. Pour the batter into cake pans and bake for 40-45 minutes or until golden brown and the toothpick comes out clean.
9. Take out of the oven and cool on racks for 15 minutes before removing them from the pans. Allow them to cool completely before icing.
10. Garnish the top with chopped pecans (optional)
11. This cake tastes just as amazing cold, so cover and store any leftovers in the refrigerator and enjoy it for up to 2-3 more days!
Cooking Tips
1. 3 flax eggs = (3 Tbsp flax meal + 9 Tbsp water)
2. Prepare frosting first so that it can chill while the cake bakes. The icing will become firmer as it chills and will soften at room temperature.
3. You can use silicone pans instead of metal ones covered with parchment paper.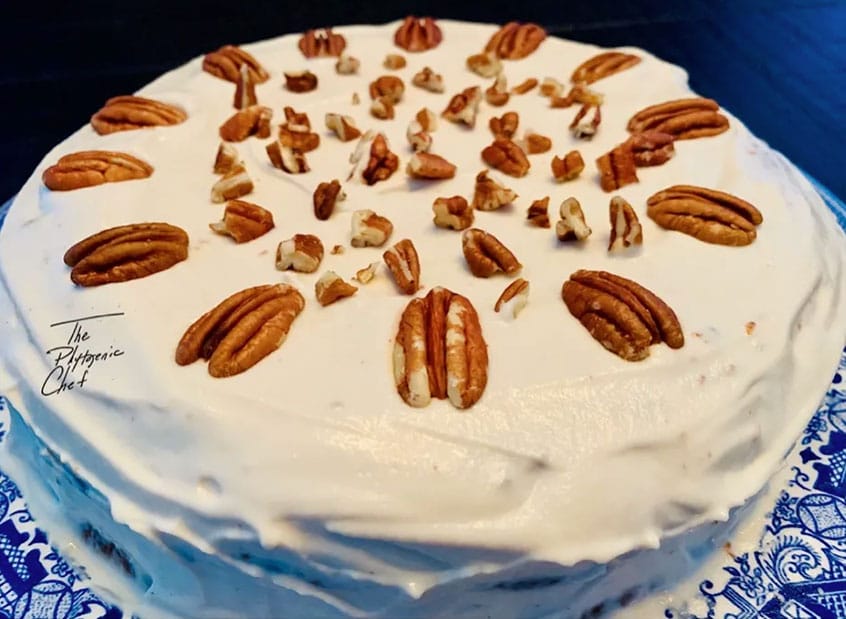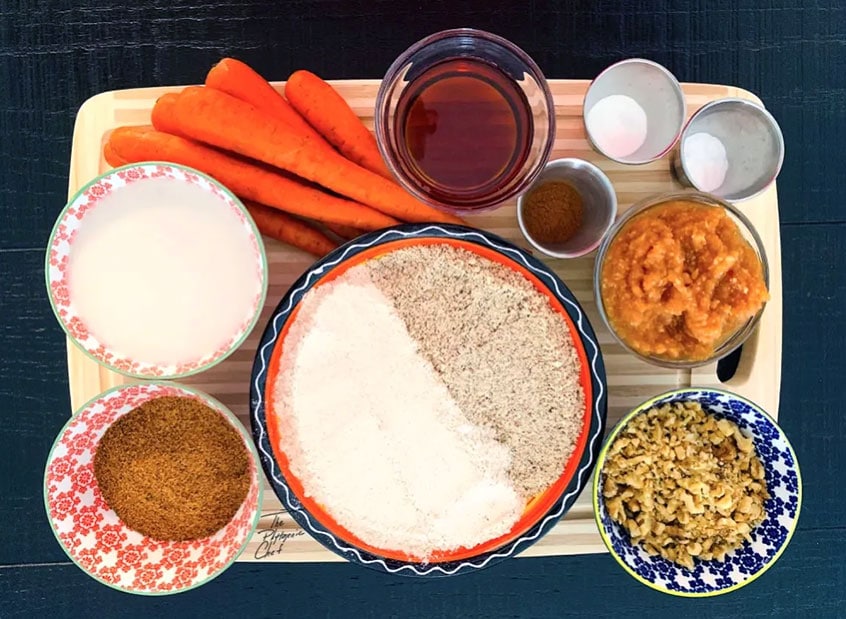 100% online, learn at your own pace
Instructor led format
No prerequisites
Continuing education credits