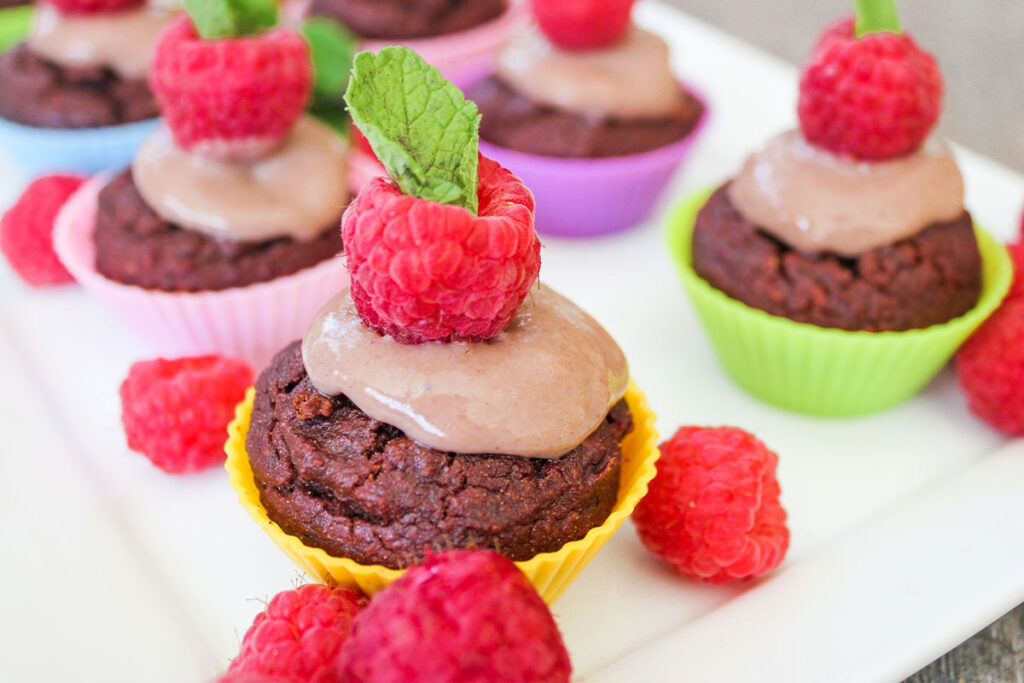 Ingredients
Cupcake
2 flax eggs (see tips)
1 cup dates
1 cup water
⅓ cup cacao powder
1 ¼ cup cup oat flour
1 Tbsp baking powder
2 tsp baking soda
2 Tbsp applesauce
Mousse Frosting
1 12.3 ounce box of silken tofu, firm or extra firm
2 Tbsp cacao powder
½ tsp vanilla
½ cup date paste
Instructions
Cupcake
1. Preheat oven to 350 degrees F.
2. Make the flax eggs by whisking together the flax seeds with the water until well combined, then place in the fridge to set for 10 minutes.
3. In a blender, process together the dates and water until smooth.
4. In a bowl, mix the cacao powder, oat flour, baking powder, and baking soda until well combined.
5. Add the date/water paste, flax egg, and applesauce, and mix well.
6. Line a mini muffin pan with silicone liners.
7. Pour the batter evenly into the silicone cupcake molds.
8. Bake for 30 minutes, or until a toothpick comes out clean.
9. Let cool before frosting.
Mousse Frosting
1. Blend tofu, cocoa powder, date paste and vanilla in a blender until well blended.
2. To thicken the mousse, chill before frosting.
Cooking Tips
1. 2 flax eggs = (2 Tbsp ground flax seeds + 6 Tbsp water)
2. Decorate with raspberries or strawberries.
100% online, learn at your own pace
Instructor led format
No prerequisites
Continuing education credits