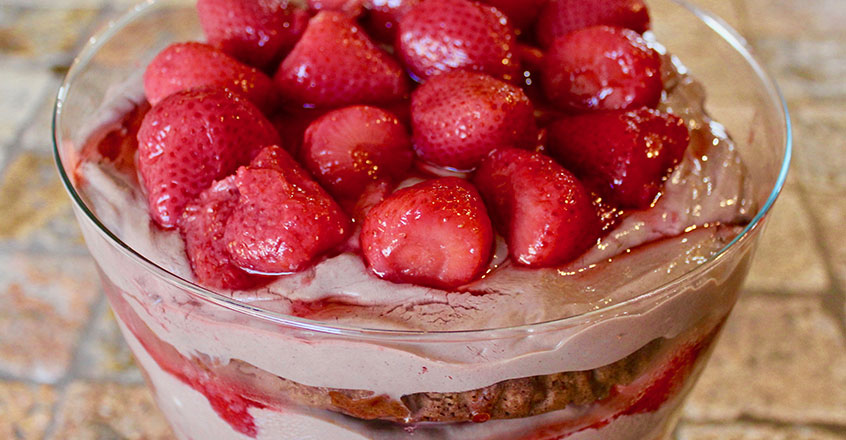 Ingredients
Cake
3 cups all-purpose gluten free flour
½ cup date or coconut sugar
2 tsp baking powder
1 tsp baking soda
½ tsp sea salt
6 Tbsp cacao powder
4 Tbsp ground flax seed
4 tsp vanilla extract
4 Tbsp unsweetened applesauce
2 Tbsp apple cider vinegar
1 cup raisins
2 cups cold water
Toppings
8 cups fresh or thawed strawberries
4 cups quick chocolate mousse
Instructions
1. Preheat oven to 350 degrees F.
2. In a large mixing bowl, combine the flour, sugar, baking powder, baking soda, cacao powder, ground flax seed and salt.
3. In a blender, add the water and raisins and blend until smooth.
4. Pour the raisin-water mix into a separate bowl and combine with the vinegar, vanilla, and applesauce.
5. Pour the wet ingredients over the dry and stir with a whisk until well mixed.
6. Pour into a round baking dish lined with parchment paper.
7. Bake for 30 minutes.
8. Remove from the oven and let cool.
9. To assemble the trifle, begin by spreading a layer of chocolate mousse in the bottom of a trifle cake bowl, round bowl or personal size parfait cup.
10. Top the mousse with a layer of strawberries.
11. Next add a layer of cake. If using a personal parfait cup, you can use a round cookie cutter to cut the cake.
12. Repeat steps 9-11 until you fill the bowl or cup.
13. The last layer should be chocolate mousse and strawberries.
Cooking Tips
1. See recipe for quick chocolate mousse.
2. Use cherries and/or other berries instead of strawberries.
100% online, learn at your own pace
Instructor led format
No prerequisites
Continuing education credits