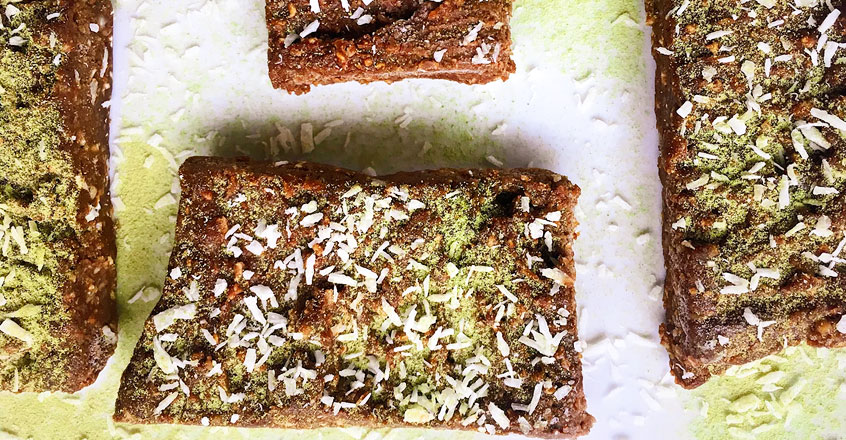 Ingredients
1 cup oats
½ cup raw cashews
⅓ cup coconut flour
½ cup nut butter
1 cup lite coconut milk
4 Tbsp matcha powder
2 Tbsp raw cacao powder
2 Tbsp unsweetened coconut flakes
2 Tbsp maple syrup
½ tsp coconut extract
½ tsp cinnamon
Instructions
1. In a food processor (I use my vitamix), blend the oats and cashews to get as fine of a consistency as you can.
2. Place the mixture into a large bowl.
3. Melt the nut butter in the microwave for about 30 seconds and combine it into the mixture.
4. Add in the remaining ingredients and mix well.
5. Line a rectangular container/pan (you want it to have some depth so that the bars aren't super thin) with parchment paper.
6. Add the mixture into the container. Flatten it out as much as you can.
7. Sprinkle whatever toppings you like - I added some more shredded coconut and matcha to mine, but you can add a drizzle of peanut butter, chocolate chips, nuts, etc.
8. Refrigerate for a few hours or until the mixture is set.
9. Cut into bars and enjoy!
Cooking Tips
1. Try using rubber gloves when placing the mixture into the pan to prevent the mixture from sticking to your fingers.
2. I've found that the easiest way to store these is to wrap them individually in parchment paper, put them in a plastic bag, and stick them in the freezer. When you want one you can defrost or microwave for 20-30 seconds!
3. They can be eaten frozen, half-thawed, or warmed up! Totally up to you.
4. I suggest using Wild Friends chocolate coconut peanut butter to get a chocolatey-coconutty taste.
100% online, learn at your own pace
Instructor led format
No prerequisites
Continuing education credits