Easy Pumpkin Spice Raw Energy Bars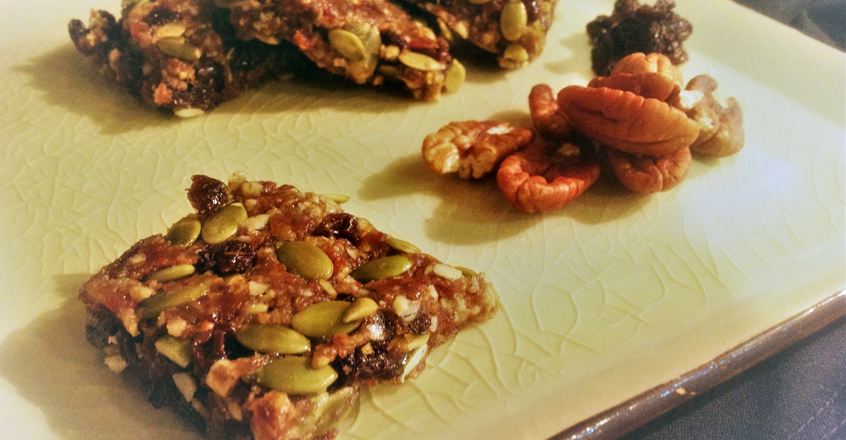 What You'll Need
---
½ Tbsp Pumpkin Pie spice mix (cinnamon, clove, nutmeg)
How to Make It
---
1 In a food processor, combine 1 cup pecans, 1 cup dates, ¾ cup pumpkin seeds, ¼ cup currants (reserve the remaining pumpkins seeds and currants for later), vanilla, pumpkin pie spice mix, and salt.
2 Process until the mixture comes together into a sticky ball. If it doesn't, add water, 1 tablespoon at a time, until it does. Transfer the mixture from the food processor to a mixing bowl.
3 Mix in the remaining pumpkin seeds and currants.
4 Line an 8x8 inch square pan with a large piece of plastic wrap. You want enough plastic wrap to line the bottom and fold back over the top of the bars.
5 Place the pumpkin spice bar mixture into the pan.
6 Use your fingers to press the mixture into an even layer. If the mixture sticks to your fingers, wet with a little bit of water. Once the mixture is spread, fold over the extra plastic wrap to cover.
7 Place another 8x8-inch square pan on top. Weigh down the top pan with heavy cans or jars.
8 Chill in the freezer for 1-2 hours.
9 Remove and cut into 16 squares.
Cooking Tips
Chilling and pressing the bars helps compact the ingredients so that they hold up well as bars. Placing them in the freezer vs. the fridge helps to speed up this process. If you don't have time for this step, you can roll the mixture into round "bites."
The bars last for about a week in the fridge. For long-term storage, wrap in plastic and store in the freezer for up to two months.
If you don't have pumpkin pie spice mix on hand, you can make your own using: 1 tsp cinnamon, ¼ tsp ground nutmeg, and ¼ tsp ground clove.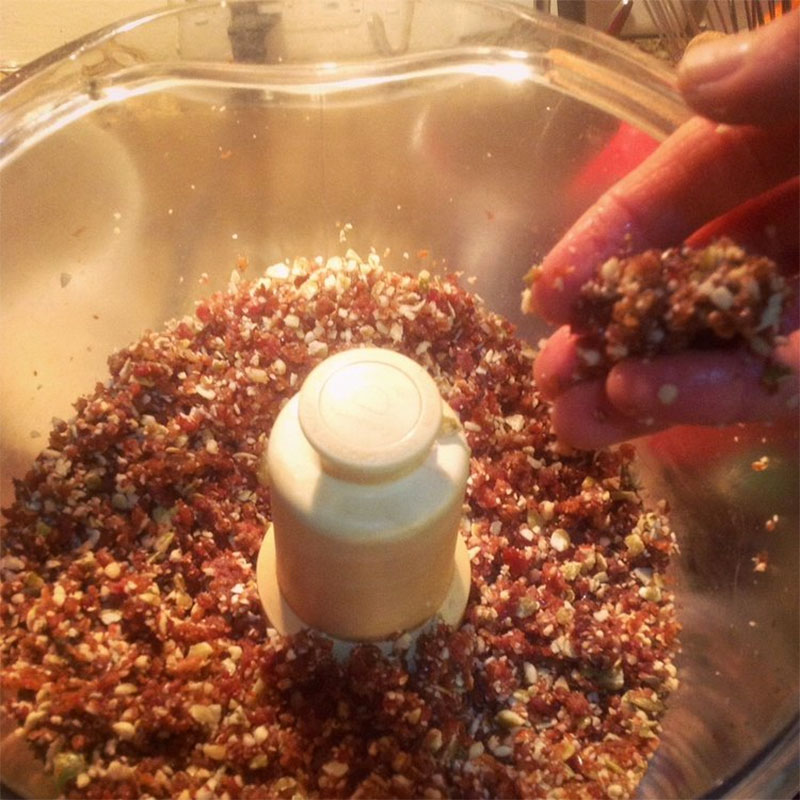 Easy Pumpkin Spice Raw Energy Bars
Copyright 2022 Center for Nutrition Studies. All rights reserved.