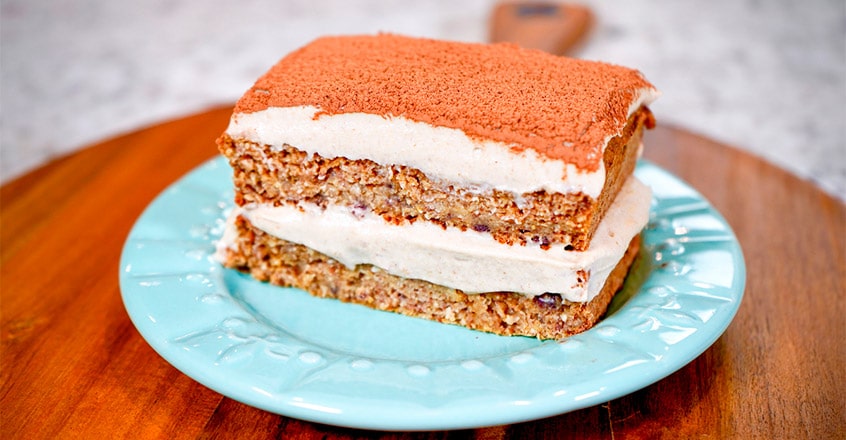 Ingredients
Topping
1 tsp vanilla
½ cup water
1 ½ cups cashews, soaked in water for at least 2 hours
½ cup pitted dates, soaked with the cashews
Cake
1 cup rolled oats
¾ cup almond flour
1 tsp baking powder
½ tsp baking soda
½ cup pitted dates
1 ½ cups unsweetened plant-based milk
1 tsp vanilla
⅓ cup espresso or strong brewed coffee
1 Tbsp cocoa powder
Instructions
1. Preheat oven to 350 degrees F.
2. Drain the cashews and dates. Combine with remaining topping ingredients in a blender, and blend until smooth. Set aside.
3. Lightly blend the oats to make a coarse flour.
4. Add the oat flour, almond flour, baking soda and baking powder to a bowl and stir thoroughly.
5. Add the pitted dates, plant-based milk and vanilla to the blender and blend until smooth.
6. Pour date and milk mixture into the flour mixture and mix well to form a batter.
7. Pour batter into two silicone bread pans or parchment-lined bread pans, dividing the mixture equally into the two pans.
8. Bake for 25 minutes, remove from the oven, and let cakes cool thoroughly.
9. Place one cake onto a cake stand or plate. Poke holes all over the surface of the cake with a toothpick or fork.
10. Ladle half of the espresso over the cake and allow it to soak in.
11. Using half of the topping mixture, frost the top of the soaked cake.
12. Stack the second cake on top and repeat previous steps with coffee and topping.
13. Dust the top with the cocoa powder using a wire strainer.
14. Keep in the fridge for 4–5 days.
Cooking Tips
1. You can use decaffeinated coffee or a coffee substitute such as chicory root or maya nut herbal coffee.
100% online, learn at your own pace
Instructor led format
No prerequisites
Continuing education credits