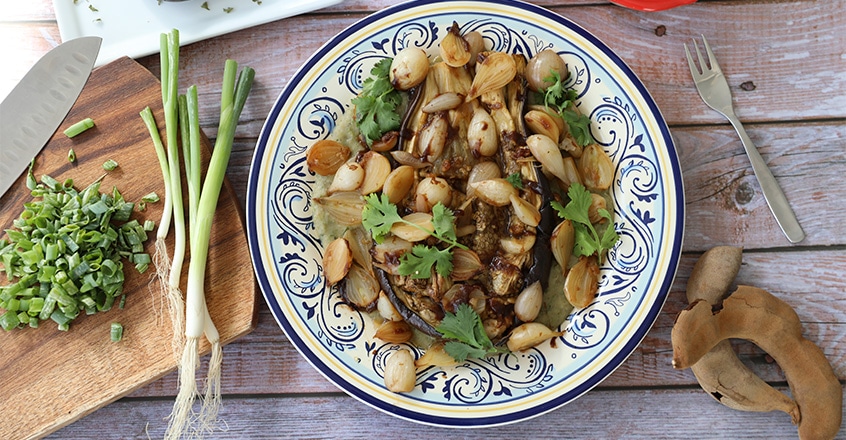 Ingredients
Eggplant
2 medium eggplants, cut in half lengthwise
2 Tbsp water
1 tsp sea salt
White Bean Purée
3 garlic cloves
Dried herbs to taste
6-8 cambray (spring) onions, green stalks finely diced
2 cups cooked white beans, drained
½ cup vegetable broth
Salt and pepper to taste
Onions
¼ cup water
1 cup vegetable broth
6-8 cambray (spring) onions, bulbs cut lengthwise
Tamarind Sauce
6 Tbsp tamarind paste
½ cup water
¼ cup date paste
1 ½ Tbsp oat flour
Instructions
Eggplant
1. Preheat oven to 350 degrees F.
2. With the flat surface of the eggplant facing up, use a sharp knife to score the eggplant flesh with diagonal lines, without piercing the peel.
3. Drizzle the eggplant halves with the water and season with sea salt.
4. Place the eggplant halves facing up on a baking dish and cover. Bake for 30 minutes, uncover, then bake for another 20 minutes. The eggplant should be soft but still hold its shape.
White Bean Purée
1. In a skillet over medium heat, sauté the green portions of the cambray onion and garlic in a little vegetable broth for two minutes.
2. Add the dried herbs, salt, pepper, and the rest of the broth, and cook for 1 minute.
3. Add the white beans and continue cooking over medium heat for 1 more minute.
4. Use an immersion blender or a regular blender to purée the bean mixture.
Onions
1. In a skillet over medium heat, sauté the cambray onion bulbs in a little vegetable broth for 5 minutes or until slightly golden.
2. Add the rest of the vegetable broth and cook for 10 minutes.
Tamarind Sauce
1. In a small saucepan, combine the tamarind paste, water, date paste, and oat flour.
2. Cook over medium-low heat for 5 minutes or until slightly thickened.
To serve
1. Spread the bean puree on a serving dish.
2. Place the roasted eggplant halves on top of the bean puree.
3. Cover with the sautéed onions, and drizzle the tamarind sauce.
Cooking Tips
1. Make sure you select a ripe eggplant. Eggplant should be slightly firm but not hard. If you press your finger against the eggplant, it should have a little give to it and bounce back, but not be as soft as, pressing your finger against a ripe piece of fruit. If it feels very soft, that means that the eggplant is old and overripe. On the other hand, green eggplants may have a bitter taste.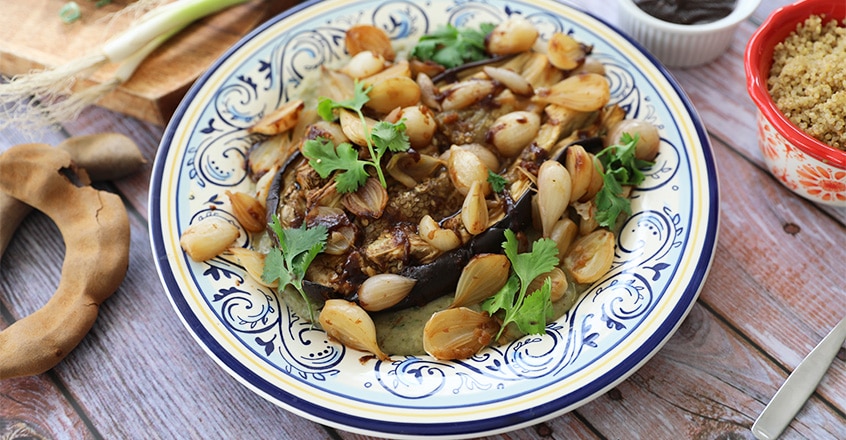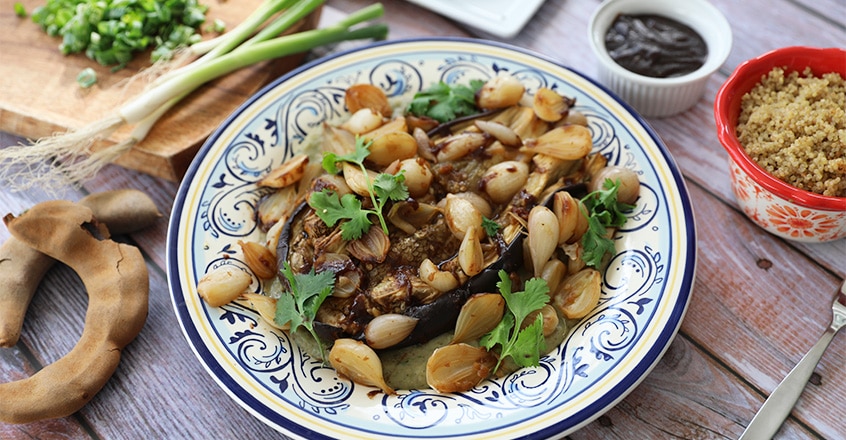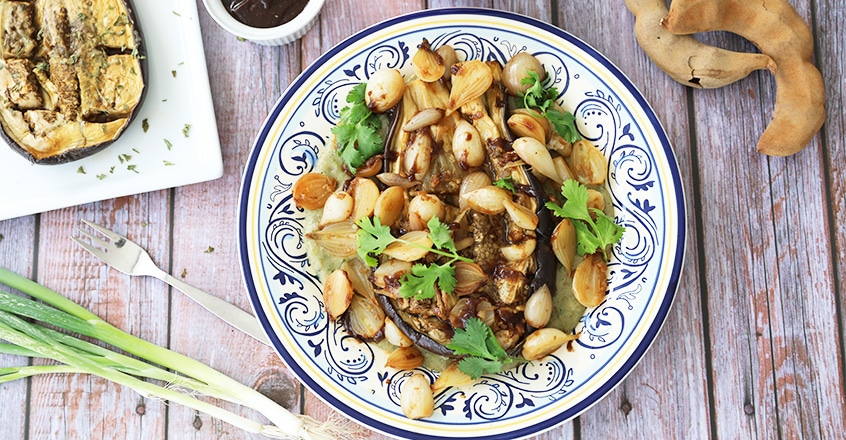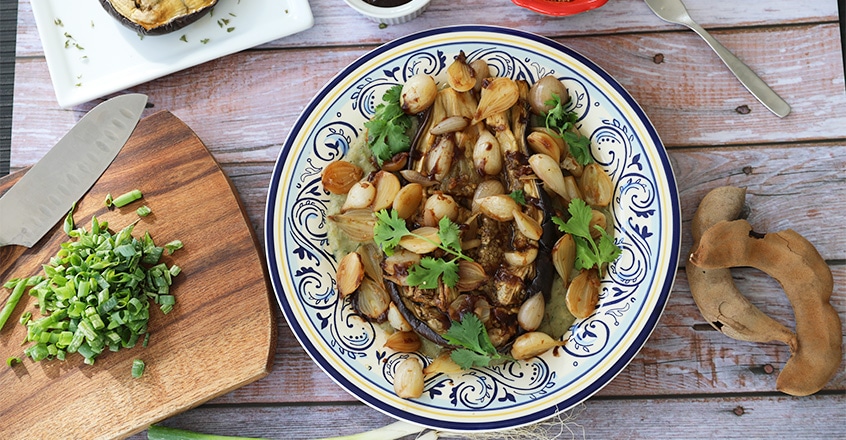 100% online, learn at your own pace
Instructor led format
No prerequisites
Continuing education credits