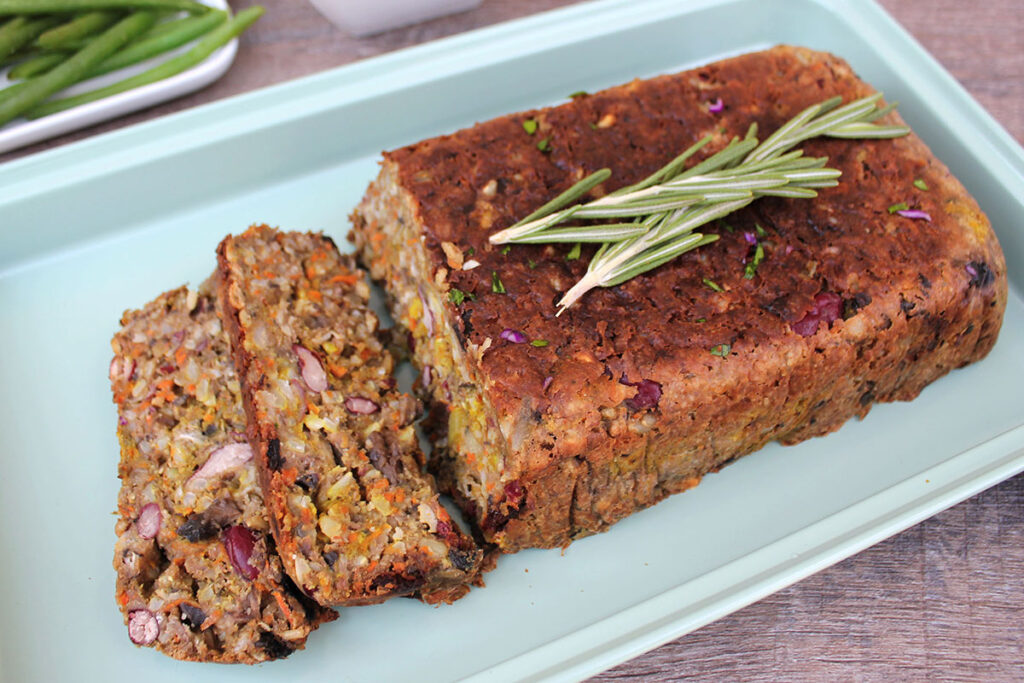 Ingredients
½ cup minced onion
2 cups portobello mushrooms, finely chopped
¼ cup grated carrot
3 garlic cloves, crushed
1 cup cooked kidney beans
1 cup cooked brown lentils
1 ½ cups cooked brown rice
2 Tbsp sun-dried tomatoes, rehydrated and diced
¾ cup oat flour
2 Tbsp nutritional yeast
1 Tbsp garlic powder
2 tsp onion powder
1 tsp sage
1 tsp thyme
1 tsp rosemary
¼ tsp turmeric
1 Tbsp low-sodium tamari or soy sauce
2 Tbsp vegan Worcestershire sauce
½ tsp sea salt or salt-free seasoning
Balsamic glaze (optional)
Instructions
1. Preheat oven to 350 degrees F.
2. Sauté onions in a large heated skillet for 3–4 minutes, adding vegetable broth or water as needed to avoid sticking. Add mushrooms and carrots, and cook for another 5 minutes, until softened.
3. Add remaining ingredients, and use a masher to combine. Don't over-mash; just mash enough so that the mixture comes together. If the mixture is too dry, add a few drops of vegetable broth; if it's too wet, add more oat flour.
4. Taste the mixture and adjust seasonings if needed.
5. Transfer the mixture to a loaf tin and bake for 40–45 minutes, until the outside develops a crust and the inside is firm.
6. Coat with balsamic glaze or serve with your favorite gravy.
Cooking Tips
1. This loaf tastes even better the next day. For best results, cook the day prior, refrigerate, and then reheat.
2. Make sure to use a balsamic glaze (reduction) that does not contain sugar. You can make your own reduction by simmering balsamic vinegar in a pan until thickened.
3. Benson's salt-free seasoning is very tasty. You can order it online.
100% online, learn at your own pace
Instructor led format
No prerequisites
Continuing education credits