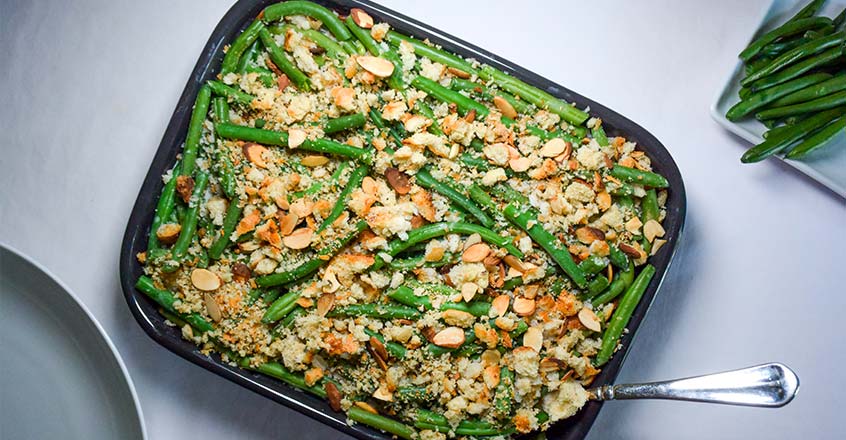 Ingredients
1 large onion, sliced
3 cloves minced garlic
1 lb green beans trimmed (cut in half if large)
⅓ cup sliced almonds
½ cup whole wheat breadcrumbs (see tips)
Mushroom Sauce
4 cup mushrooms, chopped
1 tsp fresh thyme
¼ cup whole wheat flour
¼ cup water or low sodium vegetable broth
1 cup non-dairy milk unsweetened
1 cup low sodium vegetable broth
½ Tbsp low sodium tamari or soy sauce
Salt & pepper, to taste
Instructions
1. Preheat oven to 375 degrees F.
2. Add the onions and garlic, along with a little water, to a large pan and saute over medium heat until they start to caramelize, being careful not to burn them. When they have caramelized, remove them from the heat and set aside.
3. Using a steamer, steam the green beans over 1" water until tender, about 5 minutes. Add the green beans to one half of the onion/garlic mixture in a large bowl.
Mushroom Sauce
1. Using the same pan as you cooked the onions in, saute the garlic for a minute and then add the chopped mushrooms. They should give off enough water to keep them from sticking, but you can add more water if they stick.
2. Add the thyme, salt & pepper and saute until lightly browned.
3. In a small jar or bowl, add the whole wheat flour and ¼ cup water or vegetable broth. Whisk or cover and shake until well blended.
4. Add the non-dairy milk to the mushrooms along with the flour mixture and stir continuously. Add the vegetable broth, salt, and pepper and continue to stir until the sauce thickens. Check for flavor and add salt & pepper as needed.
5. Once the sauce has thickened, remove from the heat.
Casserole Assembly
1. Place the green bean and onion mixture in a 2-quart casserole dish. Pour the mushroom sauce over the green beans and spread it around to get into every nook and cranny.
2. Sprinkle the other half of the caramelized onions over the green bean/sauce mixture and top with the breadcrumbs.
3. Cover and bake for 20 minutes. Remove from the oven and sprinkle the sliced almonds over the top. Continue cooking the casserole for about another 10 minutes until the sauce is bubbly. Check to make sure the almonds don't burn.
Cooking Tips
1. To make your own whole wheat bread crumbs, toast 2 slices of whole grain bread, then place in a food processor and process until fine crumbs form. Spread evenly onto a baking sheet and bake for about 12 minutes at 350 degrees F until lightly browned.
2. Adding a little cornstarch to the mushroom sauce will create a thicker sauce.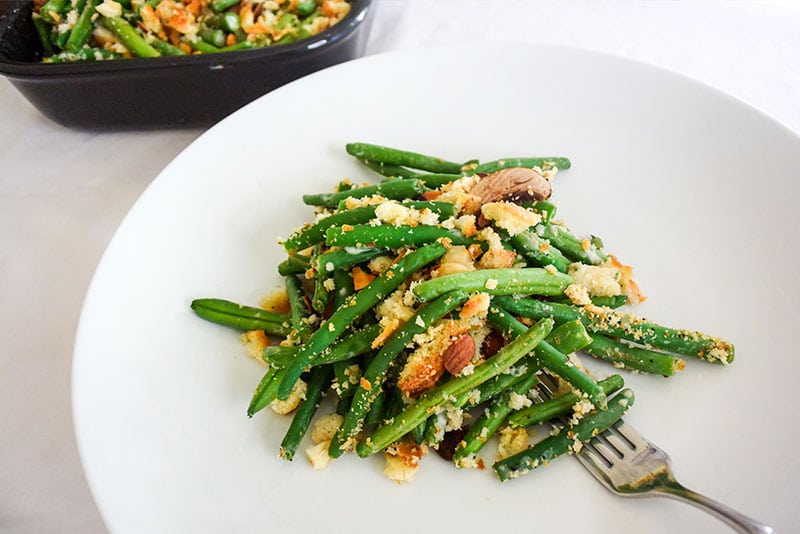 100% online, learn at your own pace
Instructor led format
No prerequisites
Continuing education credits