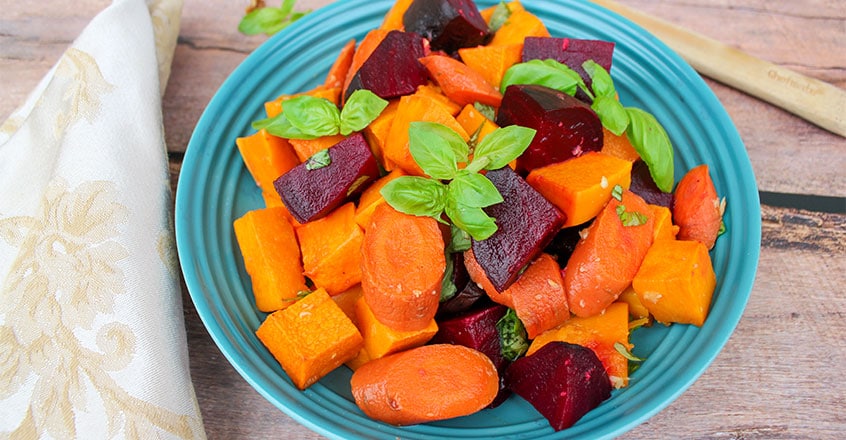 Ingredients
1 large beet, washed and ends cut
Juice and zest from one large orange, divided
1 Tbsp fresh ginger juice
6 cups medium cubed butternut squash
3 medium carrots, sliced thick
Fresh basil to taste
Instructions
1. Preheat oven to 425 degrees F.
2. Wrap beet in parchment paper, then aluminum foil, and bake for one hour, or until tender. Set aside to cool.
3. In a small bowl, mix the freshly squeezed orange and ginger juice.
4. In a bowl, mix butternut squash and carrots with 2 tablespoons of the orange juice/ginger marinade.
5. Place marinated butternut squash and carrots on a baking sheet lined with parchment paper. Roast for 30 minutes, or until tender.
6. Dice the beet, then combine with roasted squash and carrots. Add remaining marinade and zest to the cooked veggies, and stir in fresh basil.
Cooking Tips
1. To extract ginger juice, use a spoon or your hand to press freshly grated ginger against the mesh of a small strainer, collecting the juice in a bowl. You can also use a ginger press.
100% online, learn at your own pace
Instructor led format
No prerequisites
Continuing education credits