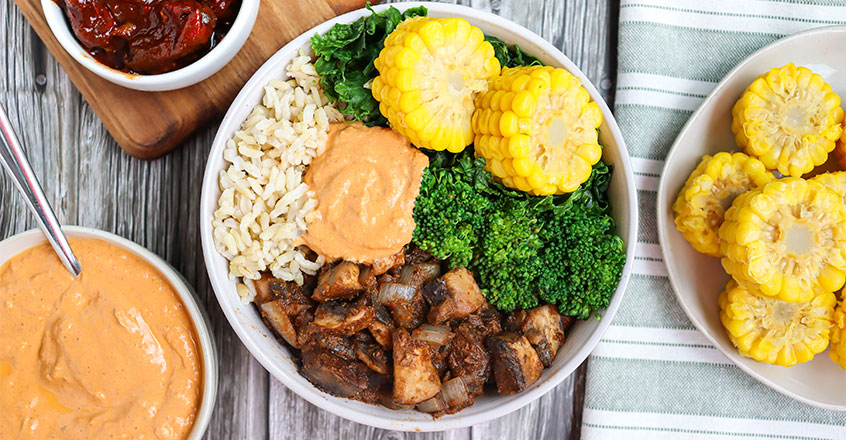 The term "barbecue" is actually derived from barbacoa, and both have become very popular foodie trends. The popular spice blend used in this barbacoa makes this a quicker-cooking mushroom recipe.
Reprinted from The China Study Quick & Easy Cookbook (BenBella Books, 2015)
What You'll Need
---
MUSHROOM BARBACOA
1 medium yellow onion, coarsely chopped
2–3 chipotle peppers in adobo sauce (optional)
2 pounds portobello mushrooms, cut into ½-inch cubes
sea salt and black pepper to taste
MUSHROOM BARBACOA BOWL
2 cups steamed vegetables (broccoli, kale, asparagus, or your choice)
How to Make It
---
MUSHROOM BARBACOA
1 Combine the garlic, half of the onion, the lime juice, chipotle peppers, cumin, oregano, and cloves in a blender and process until smooth. Set aside.
2 Heat a large skillet over medium-high heat. Add the remaining onion and the mushrooms, and cook, stirring frequently, until the mushrooms have released their juices and cooked down, about 10 minutes.
3 Season with sea salt and black pepper to taste.
4 Add the marinade to the skillet with the mushrooms, and reduce the heat to medium. Cook for 10 minutes, until the sauce has thickened.
BUILD YOUR BOWL
1 To serve, spoon half a cup of brown rice into four bowls.
Cooking Tips
For a milder version of this recipe omit or cut in half the chipotle peppers in adobo sauce. You may add a teaspoon of smoked paprika in its place.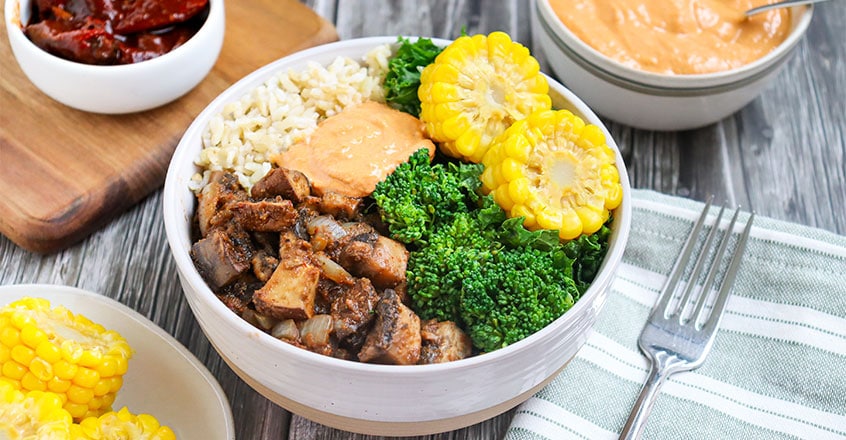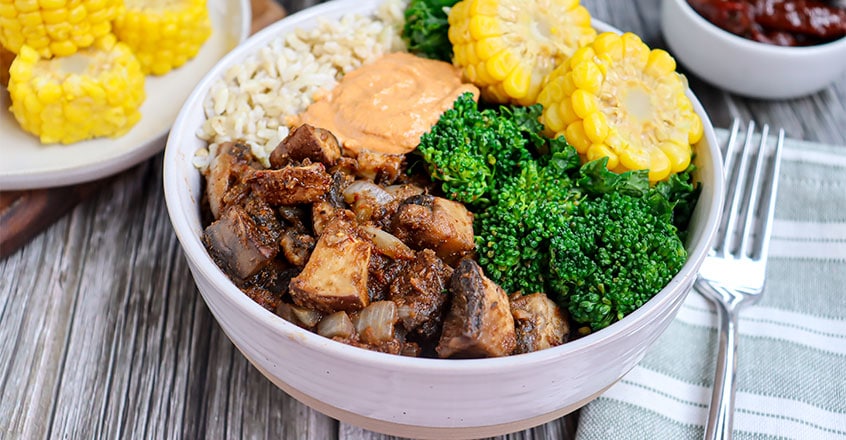 Copyright 2022 Center for Nutrition Studies. All rights reserved.