Tomatillo & Sweet Potato Buddha Bowl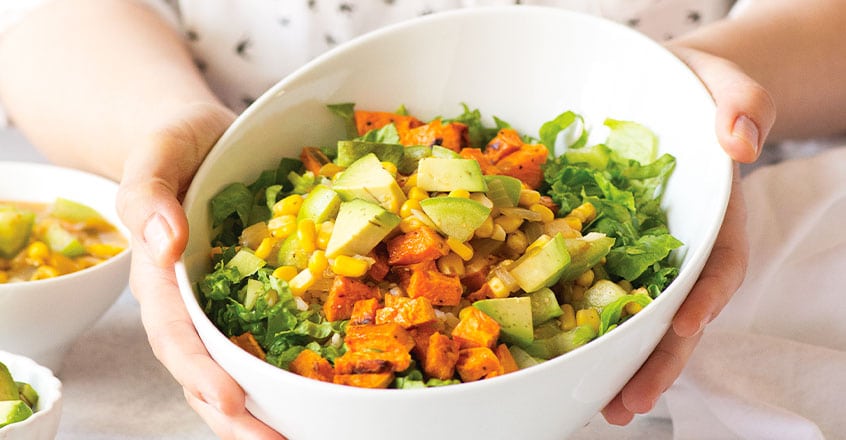 Reprinted from The China Study Cookbook (BenBellaBooks, 2018).
What You'll Need
---
2 large sweet potatoes, diced
Diced avocados, for garnish
SAUCE
2 cups low-sodium vegetable broth, divided
2 cups husked, chopped tomatillos
1 jalapeño, seeded and coarsely chopped
¼ cup chopped fresh cilantro
How to Make It
---
1 Preheat oven to 350 degrees F. Line a baking sheet with parchment.
2 Season sweet potatoes with salt and black pepper and spread on a baking sheet. Bake until cooked, about 20 minutes.
3 To prepare the sauce, sauté onions and garlic in 2 tablespoons of vegetable broth over medium-high heat until onions brown.
4 Add remaining vegetable broth, corn, tomatillos, and jalapeño. Cook until tomatillos are tender, 5–8 minutes.
5 Add cilantro, paprika, onion powder, oregano, and sea salt. Simmer for 3–5 minutes.
6 Scoop ½ cup of rice in the center of each bowl and circle with chopped lettuce. Add diced potatoes across the bowl and then pour sauce on top. Garnish with avocados.
Copyright 2022 Center for Nutrition Studies. All rights reserved.