Nutty Noodles with Vegetables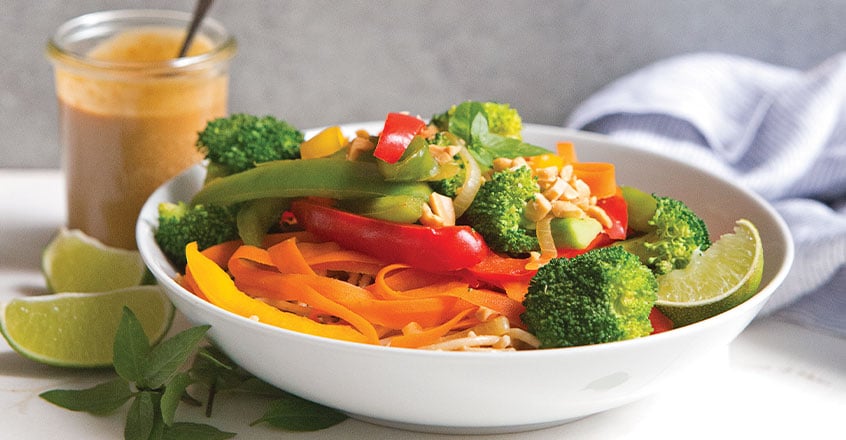 This tasty dish is simple to prepare. While the spaghetti is cooking, I chop the vegetables, then cook them. I then prepare my sauce, taste it, then balance out the flavors.
Reprinted from The China Study Cookbook (BenBellaBooks, 2018)
What You'll Need
---
½ red bell pepper, sliced
½ green bell pepper, sliced
½ yellow bell pepper, sliced
1 large carrot, cut into thin strips
½-¾ cup unsweetened nondairy milk (rice, soy, almond, etc.)
½ cup natural peanut butter
⅓ cup reduced-sodium soy sauce
1 pound whole grain spaghetti, cooked
¼ cup crushed peanuts, for garnish
½ cup chopped fresh Thai basil, for garnish
How to Make It
---
1 In a large skillet, combine vegetable broth, onion, bell peppers, broccoli, and carrot. Cover and cook over medium-high heat for 3-5 minutes, until vegetables are slightly cooked and still crunchy. Do not overcook the vegetables.
2 In a small saucepan, combine ½ cup of milk, peanut butter, soy sauce, rice vinegar, ginger, sugar, and hot sauce. Cook over medium heat, stirring constantly, until mixture is smooth. If the sauce is too thick, add up to ¼ cup more milk.
3 Pour half of the peanut sauce over the noodles and gently mix until all noodles are coated.
4 Add remaining sauce to the vegetables and then gently fold the vegetables into the noodles.
5 Garnish with peanuts, lime wedges, and fresh basil.
Cooking Tips
Snow peas and cauliflower are great additions or replacements for the vegetables called for in this recipe.
You can use other pasta in place of the spaghetti.
Copyright 2022 Center for Nutrition Studies. All rights reserved.