Peanutty Soba Noodles With BBQ Tofu and Broccoli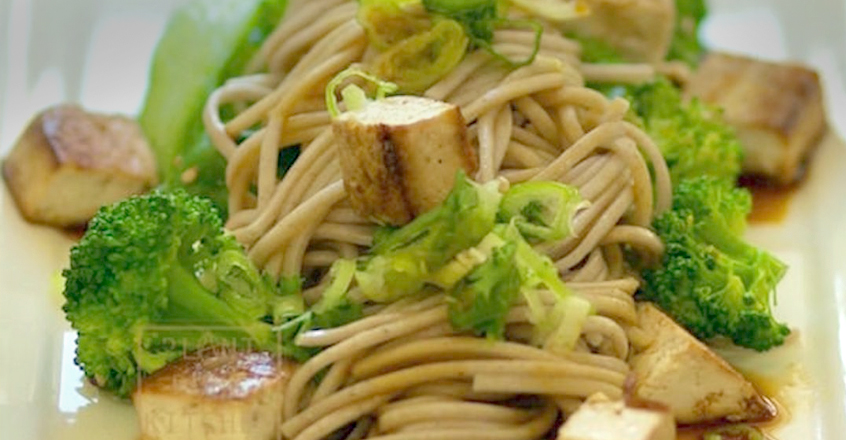 Store-bought sauces may be convenient, but many contain unnecessary ingredients such as excess sugar, dairy, and preservatives. This recipe allows you to make a healthier (but equally flavorful) peanut sauce at home.
Recipe by Stefen Janke of Plant Punk Kitchen.
2 Tbsp chopped peanuts (optional)
PEANUT SAUCE
1 tsp vegan Worcestershire sauce
1 Preheat the oven to 375 degrees F.
2 Drain the tofu and press the excess water out using a tofu press. Or, wrap the tofu in paper towels and place something heavy (a few cookbooks) on top to squeeze the water out.
3 Prepare the noodles according to the package instructions. Drain and set aside.
4 Meanwhile, prepare the tofu marinade by mixing the miso, soy sauce, and hot sauce.
5 Cut the tofu into cubes and toss with the marinade to coat.
6 Place the tofu on a parchment-lined baking sheet, and bake in the oven for 15-20 minutes until the tofu turns light brown.
7 In a large bowl, prepare the peanut sauce by whisking together the peanut butter, water, soy sauce, lime juice, rice wine vinegar, hot sauce, and Worcestershire sauce. Add water to thin if necessary.
8 Chop the broccoli into small florets and steam for 3-5 minutes. Remove from steamer and place on a parchment-lined baking sheet. Sprinkle with granulated garlic, onion powder, barbecue sauce, and peanuts. Bake in the oven, cooking until the edges of the broccoli start to crisp, about 5 minutes.
9 Toss the soba noodles in the peanut sauce. Add broccoli and tofu, and toss once more. Serve immediately.
Copyright 2020 Center for Nutrition Studies. All rights reserved.