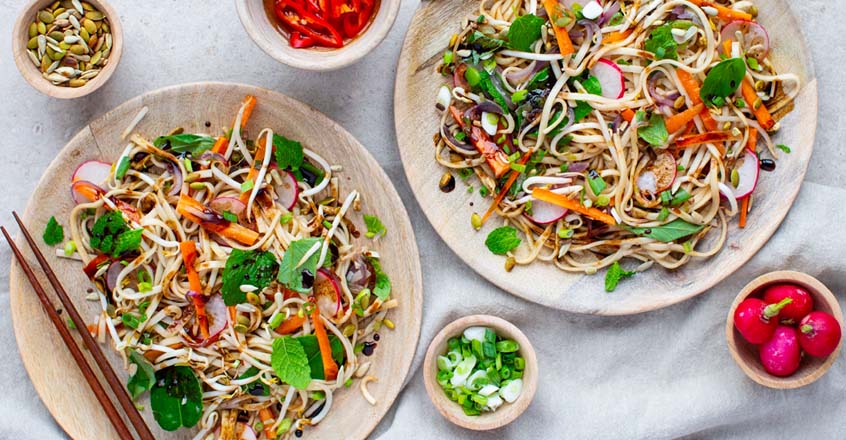 Ingredients
1 8 oz pack brown rice noodles or udon noodles
1 cup bean sprouts
2 large garlic cloves, finely minced
½ large red onion, finely chopped
1 carrot, cut into fine matchsticks
½ cup spring onions (or scallions), thinly sliced
¼ cup fresh mint leaves, chopped
¼ cup fresh basil leaves, chopped
Garnish
½ cup toasted sunflower and pumpkin seeds
¼ cup red radish, very thinly sliced
Fresh lime slices
Tamarind Sauce
2 Tbsp tamarind paste
3 Tbsp rice vinegar
1½ Tbsp shoyu (or soy sauce)
1½ Tbsp rice wine (optional)
1 Tbsp freshly squeezed (or grated) ginger juice
2 Tbsp maple syrup
Instructions
1. Cook the noodles according to the package instructions and set aside.
2. Add the tamarind sauce ingredients to a small pan. Bring to a boil and then simmer on a very low heat for 1 minute. Remove from the heat and set aside.
3. Heat a splash of water in a wok or large pan over a high heat and add the garlic, onion, carrot and spring onions(scallions), with a pinch of sea salt. Mix together and cook for 3–4 minutes.
4. Add the noodles, tamarind sauce, bean sprouts and herbs. Stir to combine and turn off the heat.
5. Add the radish slices and seeds on top.
6. To serve add some more fresh herbs, freshly grated carrot, bean sprouts, and a lime slice.
Cooking Tips
1. If you desire a hot sensation you can serve with pickled chillies on the side. Deseed and finely slice chillies and add them to a bowl with the juice of 1½ limes and ½ tsp of maple syrup. Leave aside to pickle.
100% online, learn at your own pace
Instructor led format
No prerequisites
Continuing education credits