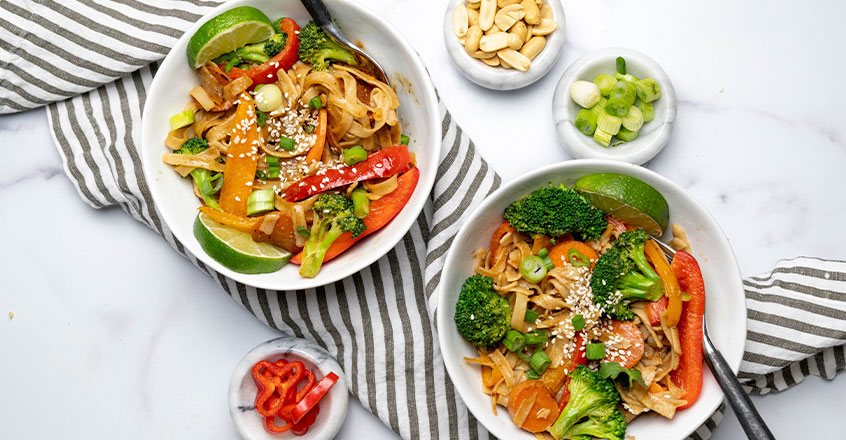 Ingredients
2 cups broccoli florets
12 oz rice noodles
½ yellow onion, sliced in half moons
2 carrots, diced
3 bell peppers, preferably a mix of red and yellow, sliced
Sauce
½ cup warm water
½ cup low-sodium tamari or soy sauce
¼ cup peanut butter
¼ cup sweet red chili sauce
1 tsp ground ginger
1 tsp garlic powder
1 tsp hot sauce
Optional Garnish
¼ cup chopped cilantro
¼ cup peanuts, chopped
1 lime, cut in wedges
1 scallion, chopped
Instructions
1. In a small bowl, whisk the sauce ingredients together until combined. Taste, adding more hot sauce if desired. Set the sauce aside.
2. Boil a large pot of water. Add the broccoli florets and blanch for one minute. Remove from the water with a slotted spoon and set aside.
3. Using the same pot of boiling water, prepare the noodles according to package instructions. Drain, rinse, and set aside.
4. In a large pan, sauté the onions in a few tablespoons of water, stirring frequently for 3-4 minutes or until softened. Add the peppers and carrots, and stir-fry for 5 minutes or until tender. Add the blanched broccoli and cook until softened but still crisp.
5. Add the cooked noodles and sauce to the veggies, and toss until everything is evenly coated. Add chopped peanuts, cilantro, scallion, and lime wedges for garnish if desired.
Cooking Tips
1. You can use peanut butter powder instead of the peanut butter for a lower fat dish.
100% online, learn at your own pace
Instructor led format
No prerequisites
Continuing education credits