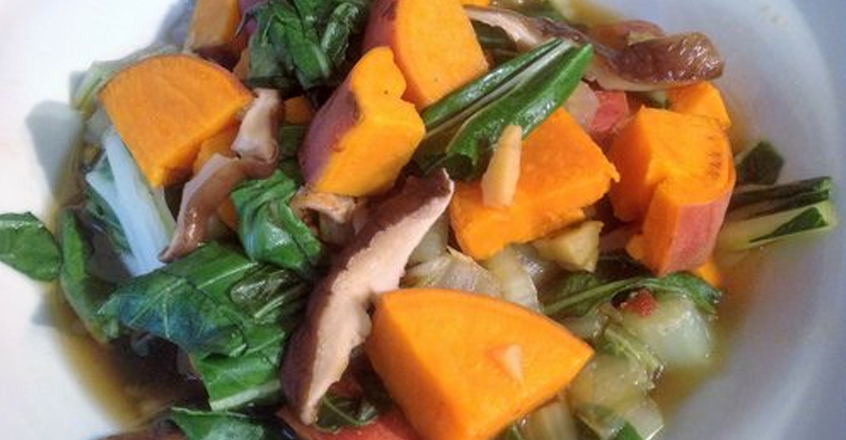 Ingredients
2 small sweet potatoes
3.5 oz shiitake mushrooms
1 bunch bok choy (about 7-8 stalks)
2 Tbsp fresh, ginger minced
1 tsp red chili flakes
1 tsp low sodium soy sauce
Instructions
1. Preheat a medium non-stick saute pan over high heat.
2. While the pan preheats, trim the ends off the sweet potatoes and cut into bite-sized chunks. Once the pan is hot, add the sweet potato to the pan. Spread into a single layer.
3. While the sweet potatoes brown, remove the stems off the shiitake mushrooms and cut into ½-inch strips. Add to the pan with the sweet potatoes, stir to combine, and spread everything into a single layer.
4. Peel the ginger and chop into small pieces.
5. Trim the base off the bok choy and discard. Cut the leaves off the bok choy and set aside. Slice the bok choy stalks into ½-inch strips, about the same width as you sliced the mushrooms.
6. Add the chopped ginger, bok choy stalks, and red chili flake to the pan. Stir well to combine.
7. Add about 1 cup of water, enough to come ½-inch up the side of the pan. Cover loosely with a lid. Reduce to a simmer and cook 7-8 minutes, until the sweet potatoes are tender.
8. Chop the bok choy leaves while the potatoes are cooking. Once the potatoes are done, add the leaves and the soy sauce. Cook until they are wilted. Serve and enjoy!
Cooking Tips
1. Can be served over your favorite whole grain
2. Substitute the soy sauce for gluten-free tamari to make this dish gluten-free
100% online, learn at your own pace
Instructor led format
No prerequisites
Continuing education credits