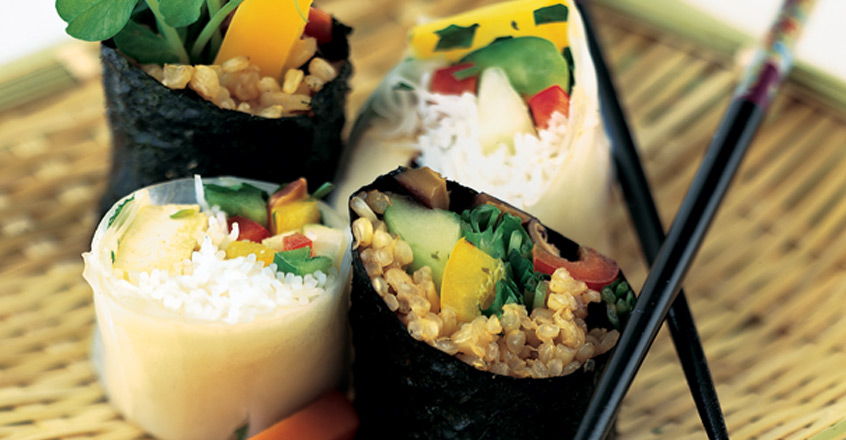 Ingredients
4 oz thin rice noodles
4 12-inch diameter rice paper wrappers
1 block marinated grilled tofu, cut into 1-inch strops
½ cup peanuts, chopped
1 red bell pepper, seeded and julienned, then cut into 1-inch lengths
1 small cucumber, peeled, seeded, and julienned, then cut into 1-inch lengths
10 fresh basil leaves, thinly sliced
10 fresh mint leaves, thinly sliced
10 cilantro leaves, thinly leaves
Instructions
1. Put the rice noodles in a large bowl, cover with boiling water, and let sit until softened, about a minute. Drain the noodles and set aside.
2. Put the rice paper wrappers in a bowl of hot water and let them soften for about a minute. Remove them from the water and set aside.
3. To assemble the crystal rolls, lay out a soaked rice paper wrapper and put a piece of the grilled tofu in the center. Sprinkle with the peanuts, then add 2 pieces of red pepper and 2 pieces of cucumber, and spread with equal amounts of the fresh herbs. Top with a handful of rice noodles, then fold in both sides of the roll.
Cooking Tips
1. Round rice paper wrappers are available in health food stores and Asian markets.
100% online, learn at your own pace
Instructor led format
No prerequisites
Continuing education credits