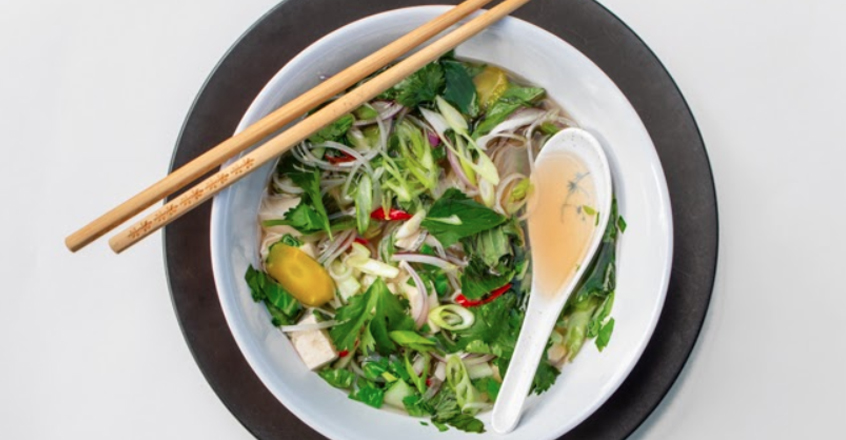 Ingredients
Soup
1 Tbsp coriander seeds
1 Tbsp fennel seeds
6 whole cloves
3 cardamom pods
1 onion
8 cups vegetable stock
4 inch piece of fresh ginger
2 cinnamon sticks
2 Tbsp soy sauce
1 Tbsp Hoisin sauce
1 packet rice noodles (14oz)
2 cups firm tofu
10 button mushrooms
1 carrot
5 radishes
1 red chilli
Toppings
Small handful bean sprouts
1 bunch mint
1 bunch cilantro
½ red onion
5 scallions
1 lime
Instructions
1. Dice 1 onion and add to a large saucepan. Add the 8 cups of vegetable stock. Place 1 tbsp coriander seeds, 1 tbsp fennel seeds, 6 whole cloves and 3 cardamom pods into a wire tea basket and add to saucepan. Add 2 cinnamon sticks and finely sliced ginger. Bring to boil.
2. Meanwhile, pour boiling water over the rice noodles in a separate bowl and allow to soak for 8 minutes. Chop tofu into ½ inch cubes. Slice button mushrooms. Slice carrot finely on a diagonal. Thinly slice 5 radishes. Slice the ½ red onion into half moons. Slice 5 scallions diagonally. Slice 1 red chili. When the stock is boiling, add tofu, mushrooms, carrot, ½ of the scallions, radishes, soy sauce, hoisin sauce, and bring to a boil again.
3. To assemble dish, place a handful of drained noodles into a bowl and ladle over the broth. Add chopped cilantro, mint, red chilli, scallions, bean sprouts and red onion to taste. Finish with a squeeze of fresh lime.
100% online, learn at your own pace
Instructor led format
No prerequisites
Continuing education credits