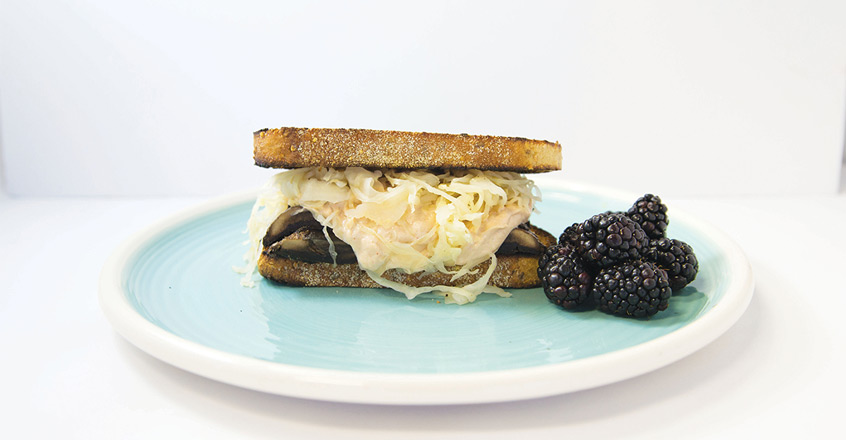 Ingredients
4 large portobello mushroom caps
2 cups water
¼ cup low-sodium tamari
1 Tbsp red wine vinegar
4 garlic cloves, minced
1 tsp mustard powder
1 tsp granulated onion
1 tsp ground coriander
¼ tsp ground cloves
¼ tsp ground ginger
¼ tsp black pepper
8 slices whole-grain rye bread, toasted
¾ cup Thousand Island Dressing
1½ cup sauerkraut, drained
1 cup Cheese Sauce
Instructions
1. Place the mushrooms in a single layer in a shallow baking dish.
2. In a small bowl, whisk together the water, tamari, red wine vinegar, garlic, mustard powder, granulated onion, coriander, cloves, ginger, and black pepper. Pour the mixture over the mushrooms and let sit for 30 minutes.
3. Turn the mushrooms over and let sit for another 30 minutes.
4. Heat a large nonstick skillet over medium heat for 2 minutes. Place the mushrooms in the pan and cook for 2 minutes. Turn them over, drizzle about 1/2 cup of the marinade over the mushrooms, and let them cook until the marinade is mostly evaporated.
5. Place 4 slices of rye toast on a work surface. Place a mushroom on each and top each with some of the dressing and sauerkraut. Spread some of the cheese sauce on the 4 remaining slices of rye toast and place on top of the sandwiches. Serve.
Cooking Tips
1. If you (or your kids) are not fans of mushrooms, try replacing them in this dish with eggplant or zucchini slices.
100% online, learn at your own pace
Instructor led format
No prerequisites
Continuing education credits