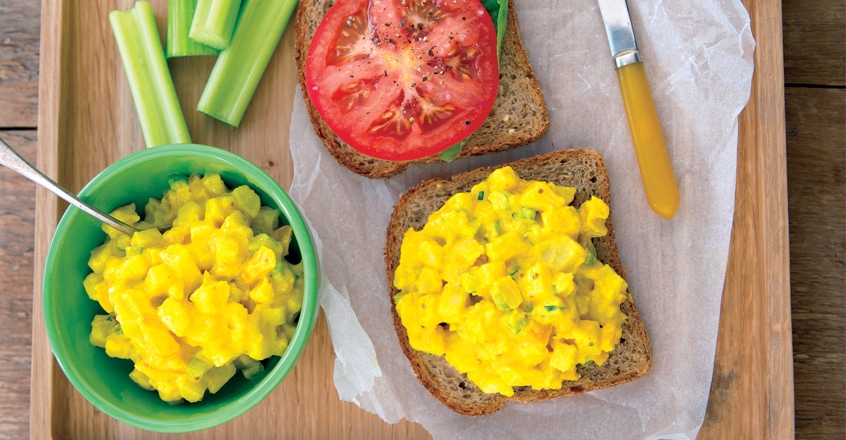 Reprinted from Plant-Powered Families by Dreena Burton (BenBellaBooks, 2015)
What You'll Need
---
1 Tbsp apple cider or coconut vinegar
3 Tbsp plain nondairy milk
½ tsp Dijon or prepared mustard
½ Tbsp nutritional yeast (optional)
¼ tsp black salt (see tips)
¼ tsp turmeric (see tips)
⅛ tsp paprika or smoked paprika (see tips)
Few pinches sea salt to taste
Freshly ground black pepper to taste (optional)
1 cup cooked and cooled diced red or yellow potato (see tips)
¼ cup diced yellow bell pepper
1 Tbsp chopped chives, or ½ tsp dry dill weed (optional; see tips)
How to Make It
---
1 In a bowl, whisk together the tahini, vinegar, milk, and mustard.
2 Add the nutritional yeast, black salt, turmeric, paprika, sea salt, black pepper, and maple syrup, and whisk through again.
3 Add the potatoes, bell pepper, celery, and parsley or chives, and stir through.
4 Taste, and season with extra salt if needed (depending on whether you are subbing tofu for potatoes, and also whether you use black salt).
5 Serve, or refrigerate for 2–3 days.
Cooking Tips
Black Salt Note: This contributes a distinct "eggy" flavor to this salad. If you omit it, you may want to season with other ingredients including extra salt.
Turmeric Note: Turmeric adds color to this mix, not flavor, so you can omit it if you like.
Paprika Note: Smoked paprika has an incredible flavor and gives a totally different flavor twist to this salad. It is a tasty addition for adults. If you love it, you can use more to taste.
Potato Note: Mashed firm tofu can be substituted for all or half of the potato. Adjust seasoning to taste with tofu.
Vegetable Note: You can omit the veggies for the kiddos, or substitute minced cucumber or minced pickles!
You can also substitute onion or garlic powder for the chives/dried dill.
Copyright 2022 Center for Nutrition Studies. All rights reserved.