Red Lentil Veggie Lasagna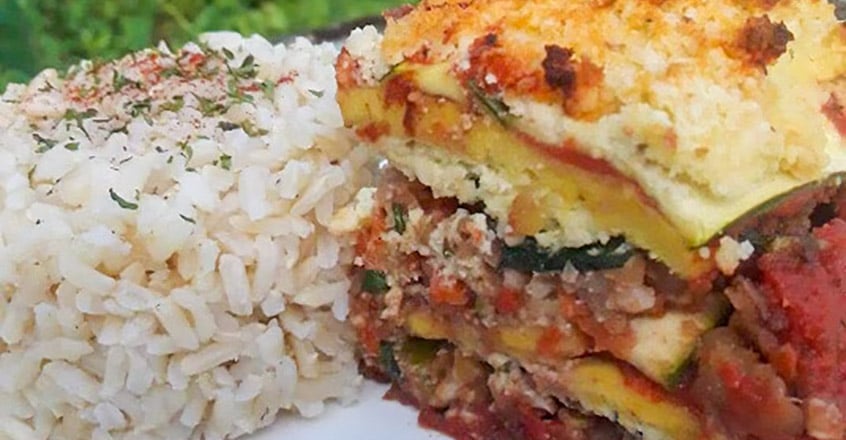 LASAGNA
3 to 4 cups marinara sauce
4 cups of vegetable, red lentil, and seed filling
2 to 3 cups leafy greens (spinach, cabbage, beet greens)
4 cups of almond "ricotta" cheese
1 ripe plantain, sliced and baked
¼ to ⅓ cup nutritional yeast for topping
Basil and fresh tomatoes for garnish
MARINARA SAUCE
⅛ tsp red pepper flakes or to taste
VEGETABLE, RED LENTIL, AND SEED FILLING
½ head of a medium cauliflower, chopped
4 dehydrated tomatoes, soaked
¼ cup pumpkin seeds, crushed
2 cups red lentils, cooked
2 Tbsp of tomato paste mixed with 2 Tbsp of water
ALMOND "RICOTTA" CHEESE
2 to 3 tsp nutritional yeast
3 Tbsp fresh basil, oregano, or parsley (optional)
MARINARA SAUCE
1 In a medium saucepan, combine all the marinara ingredients and cook for 2-3 minutes on medium-high heat.
2 Reduce the heat to a simmer and continue cooking for 5-6 minutes, stirring occasionally.
VEGETABLE, RED LENTIL, AND SEED FILLING
1 In a food processor, process all the ingredients to the desired size. The idea is to mimic ground beef or textured soy meat.
2 Cook over low heat, taking advantage of the juices that the vegetables expel.
3 Once the liquid is absorbed, set aside.
ALMOND "RICOTTA" CHEESE
1 In a high-speed blender, blend all the ingredients to form a paste.
2 Scrape the sides of the blender so that the almonds break down and you don't have chunks.
3 Add more water, as needed, to achieve a smooth texture.
ASSEMBLING THE LASAGNA
1 Preheat the oven to 400 degrees F.
2 In a 9"×9" lasagna pan, layer half of each in the following order: marinara sauce; zucchini slices; vegetable, red lentil, and seed filling; leafy greens; almond "ricotta" cheese; and cooked plantain slices.
3 Repeat with another layer of ingredients.
4 Bake covered for 30 minutes, and then uncovered for an additional 20 to 25 minutes.
5 Sprinkle on some nutritional yeast and garnish with fresh basil and tomatoes.
Cooking Tips
You can combine yellow and green zucchini.
To prepare the marinara sauce, I recommend using the Pomi brand of tomatoes or a variety without added salt.
You can substitute salt with dulse seaweed.
To prepare the vegetable and seed filling, you can substitute the pumpkin seeds with walnuts.
To prepare the "ricotta" cheese, you can use 2 tsp of Italian herbs instead of the fresh herbs.
Serve the lasagna with quinoa or brown rice.
Copyright 2021 Center for Nutrition Studies. All rights reserved.