Vegan Ricotta Stuffed Eggplant Stacks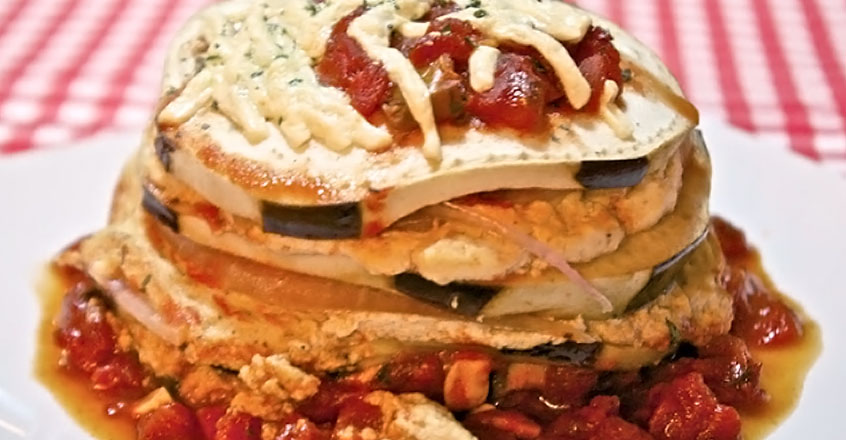 What You'll Need
---
2 medium to large sized eggplants
3 cups tomato sauce (no oil)
1 large red onion, sliced into rounds
½ tsp dried basil, oregano or salt-free Italian spice blend
RICOTTA
1 package extra-firm tofu
How to Make It
---
1 Preheat oven to 350 degrees F.
2 Drain and press the tofu lightly with paper towels to remove the excess moisture.
3 Place all ricotta ingredients into a food processor and process until smooth. Set aside.
4 Peel the eggplant (I stripe mine) and slice into ½ inch rounds (you want 16 slices, each about 4 inches in diameter). You'll want to use slices from nearer to the center. Save the ends for another eggplant dish as they will be too small to use for the stacks.
5 Spread about half the tomato sauce onto the bottom of the baking dish. The deeper the dish the better as it needs to be large enough to hold 4 eggplant stacks.
6 Assemble your stacks, starting with eggplant, then ricotta, then onion and top with about a tablespoon of sauce (see photo). I use an ice cream scoop for the ricotta. Press down lightly with the addition of each eggplant slice, to spread the ricotta a bit.
7 Continue stacking until you have 4 slices of eggplant in each stack, ending with eggplant on the top.
8 Add the remainder of the sauce to the top slices and then top with basil, oregano or Italian seasonings.
9 Cover loosely with foil and bake for 45 minutes until the eggplant is tender.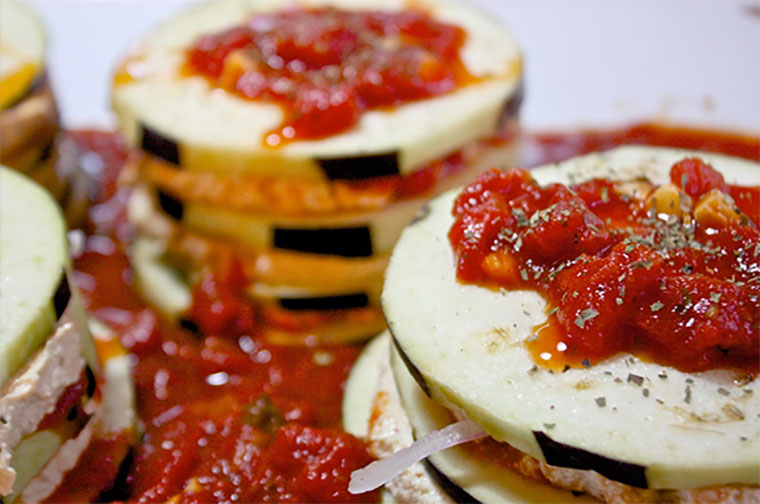 Copyright 2022 Center for Nutrition Studies. All rights reserved.