Roasted Tomato Sauce With Portobello Mushroom Over Red Lentil Penne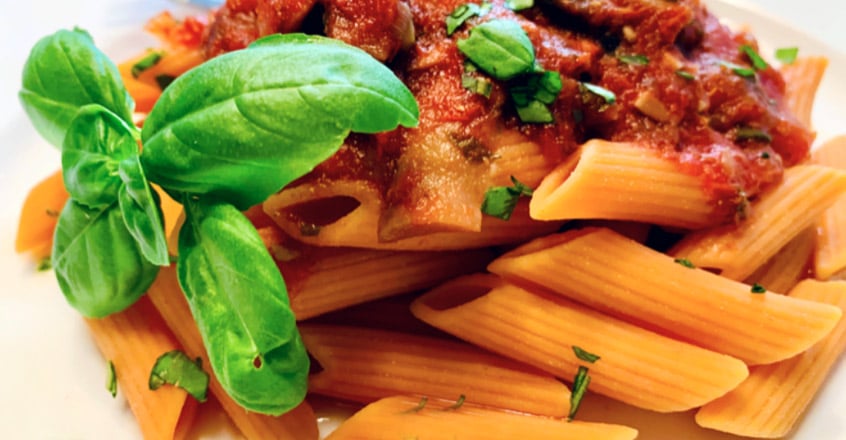 What You'll Need
---
1 box or pack of red lentil penne—8 oz
SAUCE
2 cups of portobello mushrooms, sliced into ½ inch pieces
1 ½ Tbsp fresh garlic, small diced (~3 medium cloves)
½ cup fresh basil, rough chopped
12-15 plum tomatoes (depending on size)
½ cup medium yellow onion, diced
½ cup medium red onion, diced
How to Make It
---
SAUCE
1 Preheat your oven to 500 degrees F.
2 While the oven is preheating, wash and rinse the tomatoes and pat them dry. Core the tomatoes, then cut them in half and place them on a baking sheet lined with a silicone mat or parchment paper.
3 Once the oven is preheated, adjust the oven setting to broil. If you have a broiler, set it to high. Place the tomatoes on the top rack of the oven, about 6-8 inches from the heating elements, and set timer for 5 minutes.
4 Once the timer goes off, check the tomatoes to see how done they are. You're looking for blistering on the skins and even some charring. This may take up to 10 minutes, depending on the oven. Once this is accomplished, remove the tomatoes from the oven and set aside to cool for a few minutes.
5 Once cooled, add the tomatoes to a large blender or Vitamix and blend until pureed. Set aside.
6 Place a medium saucepan on high heat for 60 seconds. Add the garlic, basil, mushrooms, and onions. Stir for about one minute until seared. You don't want the mushrooms and onions to break down too much. Once seared, add the vegetable stock and deglaze the pan by stirring the bottom with a spoon.
7 Once deglazed, add in the blended tomatoes and stir. Bring the mixture to a boil, then reduce to a simmer for 45 minutes with a lid loosely on top allowing steam to release from the sauce so it can reduce and thicken.
8 After 45 minutes check the sauce. The consistency is a personal choice at this point. I prefer a thicker sauce, which may require a longer cooking time.
9 At this point you may add some seasoning to taste if preferred.
RED LENTIL PENNE
1 Add the pasta to a boiling pot of filtered water and cook for 7-8 minutes or until al dente (firm to bite).
3 Serve in a large bowl topped with your home-made sauce and fresh basil. Enjoy!
Cooking Tips
Save all vegetable scraps for a future stock. The vegetable stock I use for cooking is SOS-free and homemade from saved scraps.
If you can't find red lentil penne at your local store, try online. You can also substitute your favorite whole-grain pasta.
Copyright 2022 Center for Nutrition Studies. All rights reserved.