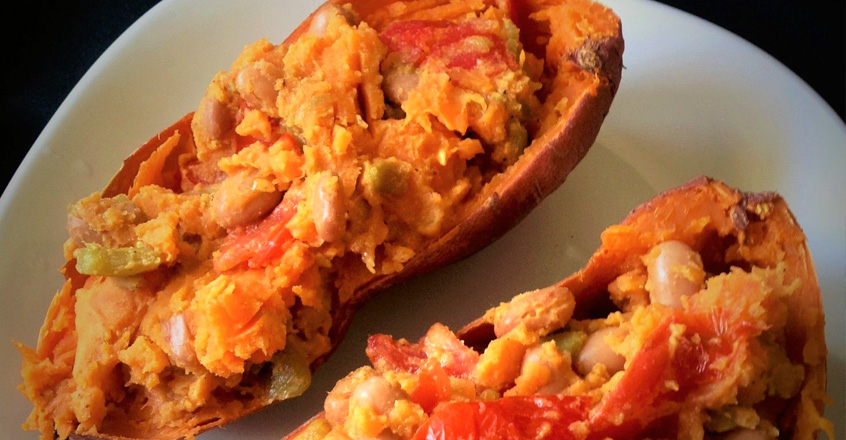 Ingredients
1 medium sweet potato
¾ cup pinto beans, cooked
2 roma tomatoes, cored, seeded, and diced
¼ tsp chili powder
2 Tbsp canned, diced green chilies
1 Tbsp nutritional yeast
Instructions
1. Place the sweet potato in your microwave and select the "potato" setting. For a medium size sweet potato, I choose "serving size 2" to cook all the way through.
2. In a small bowl, combine the tomato, chili powder, green chilies, and nutritional yeast.
3. Stir in the pinto beans. If using canned beans, make sure to drain and rinse.
4. When the potato is done microwaving, carefully remove. It will be done when a knife easily slides in and out. Cut it in half lengthwise.
5. Use a large spoon to scoop out the potato flesh. Place in the bowl with the filling ingredients and mix together.
6. Restuff the sweet potatoes and enjoy!
Cooking Tips
1. Instead of microwaving, you can cook the sweet potato in a preheated oven at 400 degrees F. First prick the sweet potato all over with a fork and bake until tender, 45 to 50 minutes.
100% online, learn at your own pace
Instructor led format
No prerequisites
Continuing education credits