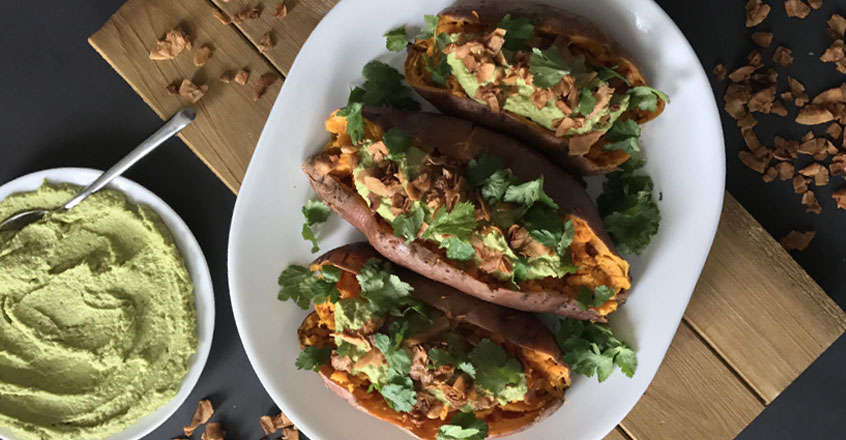 Ingredients
6 sweet potatoes
1 15 oz can chick peas – not drained
7 garlic cloves
⅓ cup tahini
Juice of 1 Lime
½ cup cilantro
5 Jalapeños
2½ cups Unsweetened Coconut Flakes
2 Tbsp Balsamic Vinegar
2 Tbsp Maple Syrup
2 Tbsp Liquid Smoke
Salt to taste (optional)
Instructions
1. Poke holes in each sweet potato and wrap tightly in foil. Bake at 425 degrees for 45-minutes to an hour
2. After roasting the sweet potatoes, slice them open and mash the inside up a little bit.
3. For the hummus, I recommend making ahead about 2 hours before serving. Peel the garlic and place in a microwave-safe bowl with the garbanzo beans and bean liquid. Microwave for four minutes.
4. Combine the garlic, garbanzo beans, bean water, tahini, lime juice, salt, cilantro, and jalapeno (seeds and stem removed) in a food processor or blender and process until smooth.
5. Set aside to cool to room temperature.
6. For the Coconut Flakes "Bacon" Bits I recommend making ahead about 1 hour before serving. Mix the balsamic vinegar, maple syrup, liquid smoke, and salt together in a small dish.
7. Pour the coconut flakes into a large bowl. Pour the liquid mixture over the flakes and mix to combine.
8. Spread the coconut flakes in an even layer on a sheet of parchment paper. Bake at 325 degrees for 15-20 minutes, stirring periodically. Remove the coconut flakes from the oven and let cool to room temperature.
9. Place a dollop of the hummus on the sweet potatoes and sprinkle with bacon bits. Top with extra cilantro and serve hot!
100% online, learn at your own pace
Instructor led format
No prerequisites
Continuing education credits