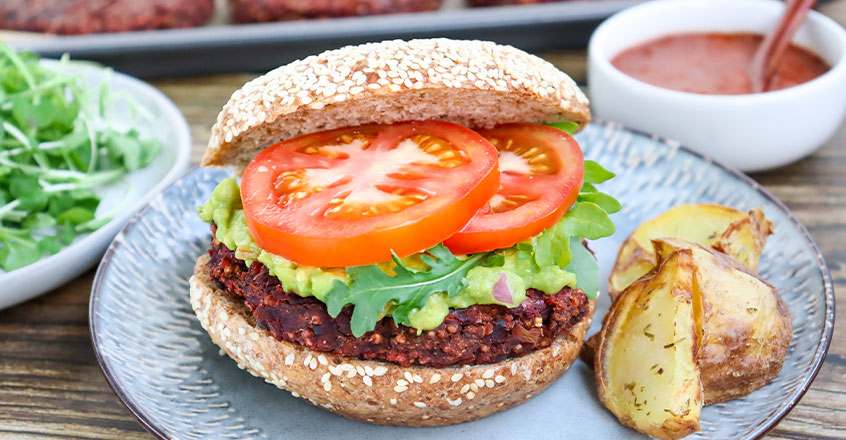 Ingredients
¾ cup uncooked millet
1 medium yellow onion, diced small
3–4 cloves garlic, minced
3 cups cooked black beans, rinsed and drained
¼ cup minced prunes
3 large red beets, grated
1 ½ tsp liquid smoke (or to taste)
1 tsp ground coriander
1 tsp dried thyme
3 Tbsp ground flaxseed, soaked in ¼ cup water for 5 minutes
Salt and pepper to taste
Instructions
1. Add the millet to a small saucepan with 1 ½ cups of boiling water. Return to a boil over high heat. Reduce the heat to medium and cook the millet, covered, for 20 minutes.
2. Sauté the onions over medium-high heat for 7 to 8 minutes until they are translucent and start to brown. Add water 1 to 2 Tbsp at a time, as needed, to keep them from sticking to the pan.
3. Add the garlic and cook for another minute.
4. Add the beans to a food processor with the prunes and pulse chop until they are well combined.
5. Add the bean mixture to a bowl with the beets, sautéed onion, cooked millet, liquid smoke, coriander, thyme, and flaxseed mixture. Season with salt and black pepper and mix well to combine.
6. Measure out 8 patties using a ½-cup measure. Shape the mixture into patties and refrigerate on a nonstick baking sheet, covered, for 2 hours.
7. While the patties finish chilling, preheat the oven to 425 degrees F. Bake for 15 minutes, flip patties, and bake the other side for another 15 minutes. The finished burgers should be firm to the touch.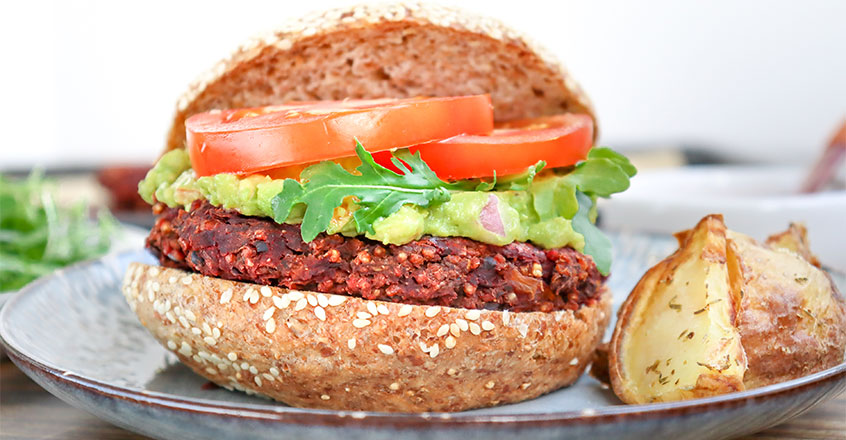 100% online, learn at your own pace
Instructor led format
No prerequisites
Continuing education credits