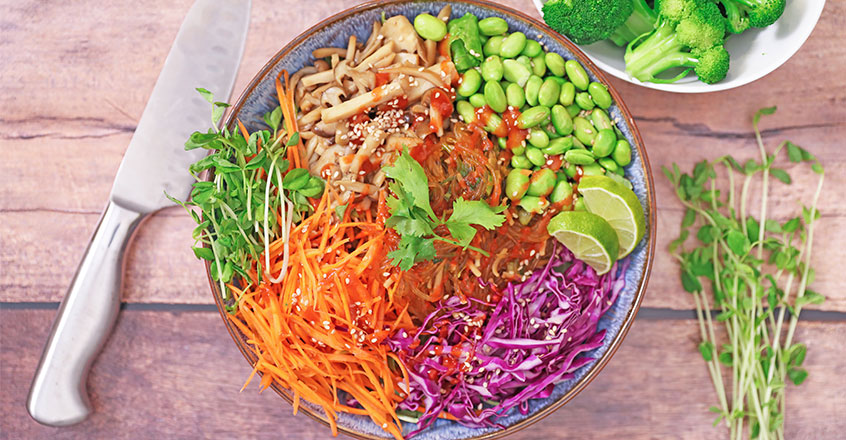 Ingredients
12 oz sweet potato glass noodles
2 cups chopped kale or spinach
1 lime
6 cups mixed mushrooms, diced
2 Tbsp white wine or low-sodium vegetable broth
3 cloves garlic, crushed
2 cups frozen shelled edamame
2 cups shredded purple cabbage
2 cups shredded savoy cabbage
2 cups julienned carrots
Sprouts or microgreens (optional)
Asian Teriyaki Sauce
¼ cup tamari or low-sodium soy sauce
½ cup low-sodium vegetable broth
1 Tbsp apple cider vinegar
1 Tbsp sriracha sauce
3 Tbsp maple syrup or date paste
6 cloves garlic, crushed
2 tsp tapioca or cornstarch
1 Tbsp toasted sesame seeds
1 tsp grated fresh ginger
Instructions
1. Bring a pot of water to a boil, and cook the noodles according to the package directions (usually 5-6 minutes). Rinse in cold water and drain.
2. In a small saucepan, whisk all the Asian Teriyaki Sauce ingredients to combine.
3. Heat sauce over medium heat, stirring constantly, until thickened, about 3-4 minutes.
4. In a large skillet, sauté the noodles over medium heat along with the Teriyaki Sauce for about 2-3 minutes.
5. Add kale or spinach and sauté for 2-3 minutes.
6. Squeeze the juice of the lime over the noodles and stir well.
7. In a separate skillet, sauté mushrooms with the vegetable broth and garlic for 5 minutes.
8. Put the frozen shelled edamame in a saucepan and add enough water to cover. Bring to a boil and cook for 5 minutes. Drain.
9. Place the noodles with the greens in a bowl. Top with cabbage, carrots, sautéed mushrooms, cooked edamame, and sprouts or microgreens (if using).
100% online, learn at your own pace
Instructor led format
No prerequisites
Continuing education credits