Tempeh Collard Wraps With Mango Salsa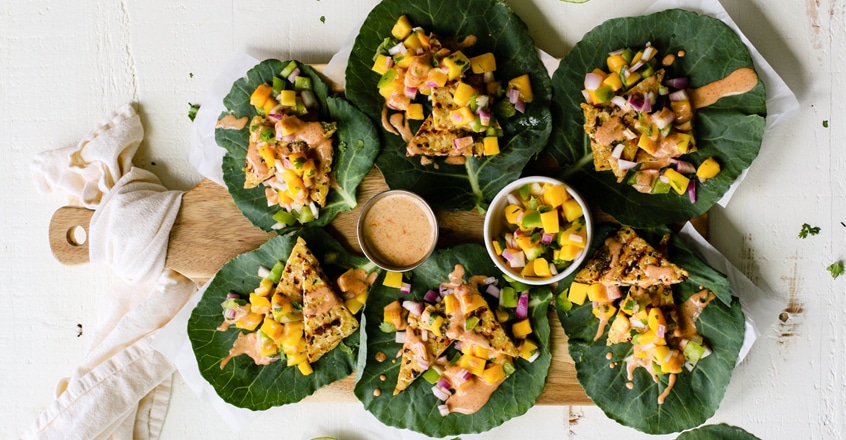 What You'll Need
---
1 bunch of collard greens
LIME CILANTRO MARINADE
2 Tbsp white rice vinegar
1 Tbsp cilantro, finely chopped
MANGO SALSA
½ cup green pepper, diced
SPICY ALMOND BUTTER SAUCE
How to Make It
---
1 Rinse and pat dry the collard greens. Trim the woody stem flush with the leaf. Set aside.
2 To make the marinade, in a small bowl, whisk together the lime juice, white rice vinegar, and cilantro.
3 Rinse and pat dry the tempeh and slice it into 6 triangles, then slice each triangle in half widthwise to make 12 triangles. Set aside.
4 Place tempeh in a 9 ×13" glass baking dish and cover with lime cilantro marinade.
5 Allow to marinade for at least 1 hour or overnight, flipping once halfway.
6 In a bowl, mix the mango salsa ingredients together and store in the refrigerator to allow the flavors to meld until ready to serve.
7 Place the spicy almond butter sauce ingredients in a high-speed blender and pulse until smooth and creamy. Add more almond milk to thin your sauce or add almond butter to thicken it, as desired.
8 In a pan over medium-high heat, cook tempeh for 5 minutes on each side. Brush frequently with any remaining marinade to keep the tempeh from drying out.
9 To serve, divide tempeh among the collard leaves and top with mango salsa and spicy almond butter sauce.
10 Store leftovers separately in the fridge for 2-3 days.
Cooking Tips
Add optional toppings such as hot sauce, avocado, or red cabbage.
Cook tempeh in a grill pan to get grill marks.
Use salt- and oil-free almond butter.
Copyright 2022 Center for Nutrition Studies. All rights reserved.